The Direction of Technology
April 23, 2013
The year is 1973, and the eyes of the general public have just been introduced to the computer.

Children walk to school. Printing plants are flourishing. Research is done in the books at the library. Families go to the store together to buy what they need. The only ways to interact are in person or over the phone, if you have their number memorized. Good posture? A requirement. Fair eyesight? Common. Writing on paper? Putting a pen to anything else will get you in trouble.

The year is 2013, and the human eye is glued to computer, smartphone, and tablet screens.

Schooling is beginning to expand into online courses. Printing plants are still around, but not used as much. Paper books are available, but rarely used. Food and supplies can be delivered to your home if you'd like. Human interaction is there, but it is dominated by social networking sites. Good posture? Deteriorating. Fair eyesight? There, but fading. Writing on paper? Becoming less and less common.

The year is 2053, and a human eye hasn't seen the sun in at least a decade.

Schooling is completed online. Printing plants have gone extinct. A paper book is only available to see in the online museum. Food and supplies are delivered to each home by human-like machines. All work is done from the home. Human interaction is done only within the family, but even that is minimal. Good posture? Non-existent. Fair eyesight? Not since 2020. Writing on paper? Unheard of.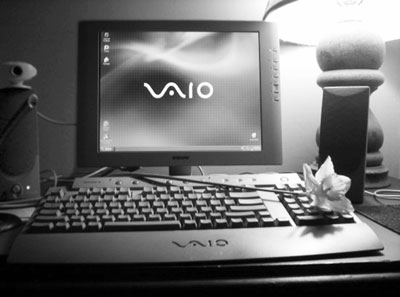 © Audrey W., Oneonta, AL