Consistency
May 17, 2013
Consistency





I've always wondered why the sky is so blue. It's the one thing I've noticed that stays consistent. The blue never gets too dark or too light. It has one fixed color and it stays that way every day. It's good to have something steady. Something to lean back on and say, "You won't go anywhere, will you?"I wish I could say the same for my life though. Everything in my life is always changing. I can't call anywhere my home because I usually have to move within three months. The neighborhood I'm currently living in now is what's considered a 'shady' part of the city. I hate that I'm no longer sixteen and now seventeen.
While I sit on the front step of my apartment building, thinking all these things, a police car pulls up. I always liked police cars. Even the blue on them is steady and consistent. I've never seen a police car any other color. That blue and white won't allow you to mistake a police car for anything else.
A man gets out and leans against his car watching me. He doesn't say anything, but simply stares. His mouth tugs into a smile at one corner. His badge glistens in the sunlight and his uniform freshly pressed; except for that one little crease at his collar. This is what gets me staring at the guy; my eyes are focused on the crease, not on him.
"Hey, kid" he says, "Wanna make some money?"
I'm surprised at first. Cops don't usually pay any attention to me. But since I've never given them a problem before, why would they bother with me anyway?
"Sure," I say despite my thoughts, "How much?"
"Fifty bucks," the cop replies "All you have to do is come to a line- up at the police station,"
I nod as Crease hands me the fifty bucks and smiles as he turns to get back in his car. I stare at the money in my hand and smile unaware of the danger I have just put myself in.
The next day, I show up at the police station. I tell the guy at the front desk that I'm here for the line- up. He looks as if he barely registers my presence, but points in the direction of the room where the line- up is being held. I'm led behind a glass wall standing with six other guys. The guy next to me eyes me over with a sad expression.
"Kids too?" he says.
I'm not sure what he meant though. The man is wearing a blue jeans jacket with leather pants. "He's wearing blue," I think to myself. "He must be a repeated offender. Blue shows consistency." Footsteps are heard from behind the glass.
Finally, I hear a woman's voice say, "That one. That's the man"
I looked and see two cops walking over to the guy next to me. He is taken out of the room and the rest of us can leave. I look back and see the man who was just pointed out being handcuffed and shoved into another room. I leave quickly without turning back. As I return home, I keep seeing the man being handcuffed and shoved into that room. I try to erase the thought from my mind, but it continues to come back.
The next day, Crease visits me again. His smile seems a little bit bigger and this time, he walks up to me. He pats my shoulder enthusiastically.
"See?" he says "It's no big deal. Do you think you wanna do it again?"
I look down at the ground and think about it. Crease waits patiently, the smile never wavering.
"Will you pay me again if I do it?"
Crease grins and nods.
"Sure," I say.
He hands me another fifty dollars and before I knew it, this goes on for the next two weeks.
It's now Monday and once again I head to the police station. I don't need to ask the guy at the front desk anymore and he pays me no mind as I walk to the room where the line- up is held. I have made a substantial amount of money and I am confident of never being picked at the line- up.
As I walk through the door, Crease smiles a big toothy grin. I smile back with the same grin. I stand in the spot nearest to the door which is now reserved as "my spot." There are footsteps heard behind the glass again. I think to myself, "I wonder who it's going to be this time? The man the farthest from the door looks suspicious, and so does the guy in the middle. This is going to be interesting." I'm looking at the other guys in the line- up when I hear the man behind the glass say, "It's that guy right there."
I watch as two officers walk into the room. I look down the row to see who will be picked but I hear the footsteps stop in front of me. I stand there bewildered and speechless. When I turn my head to the door, Crease is grinning again and has handcuffs dangling on his finger. I look down at the floor, trying to process all that has happened. Then I see my shoes. "Blue…" I think to myself. I realize now that I am in big trouble.
"How am I going to get out of this? What am I going to do?" I think as I am being handcuffed and led away. Now I realize how that man must have felt when he was led away my first time here.
Who knew blue could be so consistent and yet so unlucky?
It's the end of the line for me.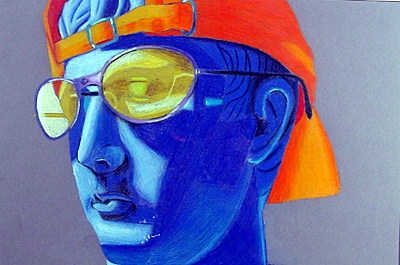 © Elizabeth C., Spartanburg, SC