Butterfly
April 26, 2013
Step forward. The person in front of Mali came in last, breathing heavily as she turns to the lane beside hers and shakes the hand of her opponent. My team has such good spirit.
This is Mali's third and last year on the swim team. Last swim, last competition, and last summer. She has a lot to be nervous about. School starts again soon, and she will be starting over at a completely new school as she goes into 11th grade. I hope they have a swim team. Never mind the fact that in about ten seconds she'll have to dive into a freezing pool and struggle through two laps of butterfly; notoriously the most difficult stroke. Mali tries hard to push these thoughts out of her mind, and concentrates on her goal.
Breathing, I'm breathing. The other swimmers are climbing out of the pool so step up onto the dive box. Two steps, ok I'm on the box. Don't look at the refs; don't look at your competition. Look at the water. Listen for the whistle. Mali's fingers grip the edge of the dive box.
Oh! Dive! I know that I'm doing butterfly. Butterfly, double leg kicks before the arms. No! Don't breathe yet, the girl on my left is ahead of me. Damn it! Ok, I need air now.
To the spectators it looks like Mali is flying, as easily as the butterfly that the stroke is named after. Somehow, for half the length of the pool she manages to stay underwater, finally bursting to the surface for a breath, her arms flailing yet somehow managing to look graceful. A rhythm emerges to her swim; she flaps her wings, kicks, kicks, wing flap, breathe, kicks, kicks, wing flap, kicks, kicks wing flap, breathe.
"She's going to win," an audience member whispers as Mali passes her competitor on her second lap across the pool. Some of the people start cheering Mali's name as she completes her last turn; more pick it up as she gets closer to the wall ages ahead of her competition. This is what matters to me. Look there's the wall, touch it with both hands or I'll be disqualified. Wait, I think I won.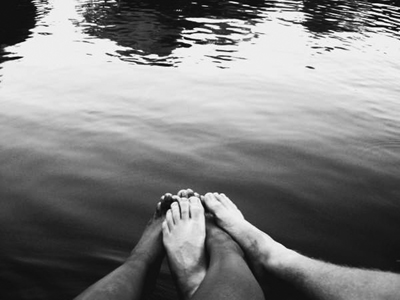 © Michelle W., Ada, MI