No Place To Call Home Part I
June 19, 2013
I lay in bed, listening to the ocean and the smells of Greece my home. I fight the urge to cry again, even though that's all I want to do. It hurts to imagine myself leaving the only place where I can truly be happy. This is the only place I know, my family and friends are here, everything I love is here.

I look out and see the street light blink on and off at exactly the same time every night; my signal. I slowly slip out of bed and pad to my sandals slipping them on and grabbing my sweater off the hook near the door.

I take the stoned steps down two at a time, until I've reached the dock and see Him. His back is turned to me and he's holding something I'm too far to see. But I can't focus on it, me leaving has finally hit me so hard I can't bare it anymore.

I walk slowly to him, he turns when I get closer. His bright smile turns sad when he sees the tears start to roll down my face. He embraces me hard and plants a soft kiss on my lips.

He brushes the tears away, not taking his eye off mine. He doesn't say a word but just holds me tight to him. Making me feel as if my leaving doesn't sadden him, but has determined him that he will see me. I feel this through our embrace, and I love every moment of it.

Morning has started to show itself and its time to say goodbye to him. He hands me a gold chain with a small ruby ring attached to it.

"Take this with you to America, I love you." slipping the necklace into my sweater pocket, I say it back and crush myself to him. We don't say anything else. There's nothing else we can say, because I know we could plan to run away together, go to the church and get married for me to stay with him and my family. It would be too easy to think these things and easier to do them. But we are not naïve, that won't get us anywhere; disappointment from our families would make it so much worse. After returning home, I'm back in bed, staring out the window and letting the sounds of the ocean drift me to sleep.

***

This city in America is loud and feels crowed. The skies are murky, and the people move around so fast, always in a rush. Our apartment is old and small with brick walls. The landlord is talking to my father; I only understand half the conversation. By the look on my fathers face, I can tell he's having a little difficulty as well.

I go to my small room and look out the window at such a murky place. Not one thing standing out that I can call beautiful.

I grasp the necklace around my neck and think of home and my loved ones.

It's this thought that will help me survive America.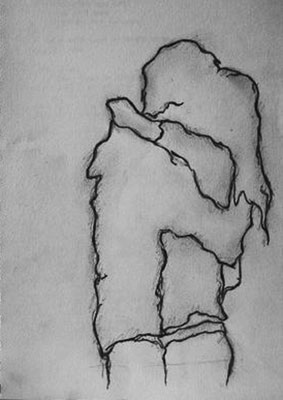 © Nicole B., Newcastle, WA