The boy with the sad eyes
July 28, 2013
He had smooth dark cheeks that had never seen a razor. But the dull and cinder- colored eyes were those of an old man, and had seen lots. His lips were dry and cracked like the land that he lay on. His large shirt hung almost too his knees and was torn and painted by splatters of crimson. His trousers cinched tight by a belt made of thin frayed string. Feet blistered and barefoot, his toes calloused as if they had been walking on hot coal. His gun hung loosely over his thin shoulders.
He woke up and opened his cold, sad eyes, braced for the loud booming noise he had been hearing for what felt like forever, but all was quiet. He could only hear the sound of his own slow breathing and the flies buzzing around him, yet he was too tired to brush them off. There was the sound of a woman's loud cry from one of the nearby villages and it sounded like the protective cry of a wolf trying to guard its cubs. He listened and could hear the crackling gunshot in the distance, which sounded like snapping trees. He could hear the loud stamp of the boots. He blocked all of these sounds out, and again, all he could hear was his breathing.
Looking around him, the boy wondered if this place had ever been beautiful. Had the dull, muddy hills ever been covered in blooming flowers, the bright colors of the fruits of his home? Had there ever been children who could laugh or play in this place? All was dead. The boy could tell that everything had been covered in mud and soft brown dirt, yet the blazing sun had dried everything, just as it had dried the men's throats. There were large tire tracks covering the thirsty earth which were made by the deathly machines the boy had become familiar with. A grand tree stood standing tall close to him. Its leafless branches were sagging, about to collapse. The trunk of the tree was rough and worn- out, but as kind and telling as the wrinkles of an elderly man. This potentially beautiful tree was left scarred and lifeless by the bullet holes through its gentle bark. Trampled weeds were spread across the infinite land. Few stayed dancing whenever a small gust of wind would come. Waiting to lay motionless and sad like the rest which were acting as a bed for all the men scattered and dead, wounded and cold.
The men were dressed in different colors, some were old and some were still just boys. Yet all were the same. Injured and bloodied, they all had the same dry lips, rough skin and cold, sunken eyes. The men were lying down, all were broken yet they looked as if they were ready to be woken up. There was a lingering decaying stench around each body, the scent of rotting meat baking from the powerful rays of the scorching sun. He tried to hear noises coming from the deceased men, but all was quiet. They had silenced each other. He looked ahead and saw a hole in the parched ground. The hole was too deep but the boy could see still arms sticking out of the hole. He knew that it was full of corpses, thrown on top of each other the way discarded rubbish is thrown into ditches.
He was suddenly alert as the smell of gunpowder enters his dry nose. With all his strength he began to cough. He could tell that there is a fire close by the smell of burnt wood and ash. He imagined the dark flames adding to the heat of the sun, orange and yellow swallowing boys like himself. The rusty smell of fresh blood on himself is like iron and salt and reminds him of the pain in his body.
He hears them coming closer. The gunshot becomes a pounding in his ears. He can hear men screaming. He sees a blur of the green of their uniforms and their red blood in the distance. He prepares himself, remembering why he is here. He wipes his brow, creased as if solving a riddle from his mother. He can smell the salty stench of his own sweat pouring down his face. He feels his head, burning from the oppressive heat. His hands are rough and cut, a pain rushes through him. He picks himself up and feels the hot metal of his gun. He puts his finger on the trigger, blinks a few times into the sun, and turning falls on to one knee and points at the first olive green uniform coming over the hill, toward him.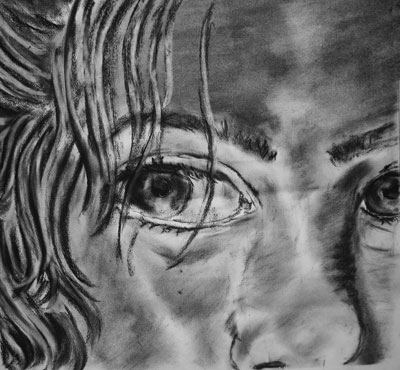 © Brooke W., Weston, MA