At War
September 4, 2013
I breathed heavily, and exhaled even quicker, as if expelling the air out of my lungs would expel the acrid smell of the atmosphere. It was a very peculiar yet, distinguishable odor. No matter where I went, I knew I would always be able to recognize this smell. That was the worst part about all of this, I could close my eyes to shut out the terrible sights and I could press my fingers over my ears and hum robotically to drown out the screams but I couldn't ignore the fetid.
It was sickly sweet yet bitter at the same time; it made my head spin and my empty stomach growl.
Blood, sweat, vomit, stale food, urine, feces, tears, desperation, fear and death. These things made a unique stench. A cold gust of fresh, air whipped across my face and I breathed into it greedily, I knew I wouldn't get more of these.
I observed the dying man in front of me, there will be no help for him. I had long since stopped falling apart at the sight of death. I knew that the same fate awaited me in the foreseeable future. No matter what I did, I was a dead man.
My mind drifted away from my imminent demise and slowly slipped into the memories of my home. Like shards of broken glass, jagged memories with rough edges flickered in my mind- my wife's amused frown, my daughter's sweet smile, my son's small fingers. I remembered the unadulterated air of my fields, the warm sun on my back and my wife's soft touch on my cheek. So many exquisite sensations, I had let go to waste, simply because I hadn't appreciated them. So many kisses, smiles and touches I longed for now.
The happy memories of my home juxtaposed with the bleak landscape of the war- torn hills made my core ache.
I sighed and turned my back on the dying man and walked away.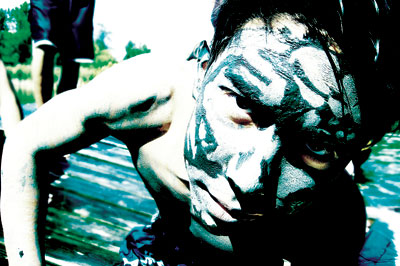 © Seita O., Palatine, IL