October
October 12, 2013
My breath appears in front of my face. The steam rises in the air and for a second, I allow myself to think that I am a dragon. Then the smell of my sweet tea reaches into my thoughts. Cold bites at the end of my nose and fingers and I bring the cup up to my lips and the tea warms my body from the inside out. The scarf mom coerced me wear began to irritate my neck, but I knew I'd be scolded if I took it off.

Various colors surrounded me. The brilliant orange of the pumpkins. The color filling me with as much happiness and warmth as my tea. Green surrounded the orange, making even more inviting. Then the soft auburn red leaves, smooth as honey, hung from the tall majestic trees. Accompanied by the yellow-brown leaves that cluttered the ground.

Sounds were just as loud as the color. Kids sprinting around the pumpkins. Some meticulously tip-toeing their way around the vines. Teacher was flustered, turning this way and that. Her thin brown hair falling from its bun. Most kids had already picked out their orange orb and were impatient enough to attempt to carry it themselves. One kid had dropped on on his toe and was now wailing a loud siren cry. Another pulled on Teacher's arm to show her something they had discovered. Teacher had two grown men with her that were there to help carry the children's pumpkins, but they were just as scattered as Teacher. They would carry a large one to the truck, as instructed by the child, only to have to set it off the side and pick up another one, as the kid couldn't make up her mind. A laugh bubbled in the back of my throat.

Sitting on the large orange ball I had claimed for myself in the beginning, and sipped my hot sweet tea.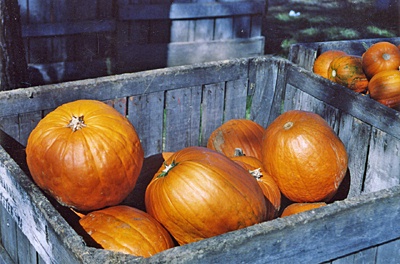 © Scott G., Bethesda, MD