Elements(Redux)
January 28, 2014
I flipped another page in the book. Threw it on the couch. Got up. Sat down again. Chewed my nails. Reminded myself not to chew my nails. Checked my watch. Picked up the book. Walked in the kitchen. Opened the refrigerator. Closed it. Opened it again with a sense of urgency. What was I searching for?
Checked my watch yet again.
I had never thought two minutes could take so long.
With a sense of purpose (fueled by desperation), a grabbed a blanket and the small white stick on the table and headed out in the backyard. Found a cool place under a tree. Spread the blanket and laid down on my back. Checked my watch again.
Everyone knows it shouldn't be this hot. The sun was just setting, yet its dying rays offered no respite from the muggy heat of a Florida August. I sweat through my cotton shirt onto the grass. It was that time of the day when the shadows lengthened and the birds quieted. A car passed on the street playing 'Red Lipstick'

Ignoring my instincts, I rolled over on my stomach, away from the blanket. Face down on the mud. The grass was still damp after the afternoon thunderstorm. I flipped over again, feeling the sun on my face. The grass blades caressed and tickled my limbs.
Kind Leaves! My inner masochist sought for something more painful. As compensation, I raked my fingernails over my legs. Dug them in, I wanted to see blood, I needed to be castigated.
Tears rolled down from my cheeks into my mouth, travelled from the side of eyes and into my ears and in my mouth.
Bitter Water! It wasn't enough wash away my sins. I needed to be doused in scalding liquid. I needed to drown, to have my lungs fill up and my breathing stop.
The air was thick with moisture, almost viscous because of the humidity. It pressed down on me, like an oppressing blanket.
Cruel wind! Could it not sense that I wanted anguish, not numbness? The blanket may be stifling, but it was still sweet in its protectiveness.
My body heated as the tears flowed easier and the nails clawed violently at my arms and legs.
Strange Flames! They never come when I need them the most. I needed them now; I must burn for what I did. I invited them; let them lick me up and down. Threw my head back and wailed.
The screams of a broken woman are bizarre, confusing in the myriad of emotions that ring through the pitches. Though, my voice, like the birds, fell silent. A car passed playing 'Elements'
I lay back, once again in my initial position. Where the leaves touched me, the water drowned me, the air suffocated me and the flames raged through my body. I stayed still, hoping to become one with nature, hoping desperately that the ground would split up and swallow me, making me an Elemental. Take me to a world there were no judgments, no rights and wrongs, no responsibilities and no decisions.
The memories, repressed for so long, took over without warning.

My mother, whispering 'I'm glad no child of mine ever did that', as she openly stared at a young couple passionately kissing in the back seat of the bus.
Other memories too, the pleasure that they brought was almost intolerable. Neatly cut cocaine on the glass table. Tiny pink pills that worked well with vodka. Ghastly green alcohol which caused the most wonderful hallucinations. Weed in the joints, weed in the brownies, weed everywhere!
But I had never taken any of these, my drug was always much more dangerous, much more pleasurable and inexorably addictive.
His eyes were sad and his smile absurdly beautiful. I could never get enough of him. In the backseat of his car, always kissing, always in each other's arms.
Brown liquid in glass bottles, down our throats. That night, it felt so perfect, as if the heaven itself had descended upon Earth. It never even bothered either of us that we didn't have a condom.

Ah! Sweet, disjointed recollections of a wild past.

Back to modern times: my phone rang and I swooped to see the picture of a pretty blonde on the screen.
"Well, what's the verdict?" she asked
Time seemed to have congealed around me, slowing down, or maybe stopping entirely. I looked at the white stick again, traced the two red lines with my eyes. They looked so odd. They did not belong in primitive world I was living in a few seconds ago.
No longer one in a million, but now one among a million. A mere statistic. Laughing stock. Just like the 750,000 young girls in The United States.
"It's positive, Lindsey. I'm pregnant"
Silence. This kind of news demands it.
"What are you going to do?"
"I think you know, Linds"
I hung up the phone and once again, became one of the elements. Forever stuck in the fluid state between memories and reality.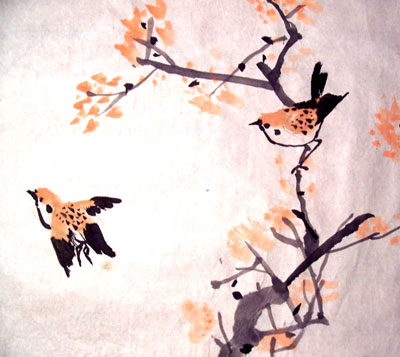 © Xiao H., Naperville, IL