Clancy Mae's Wooden Shoes
March 2, 2014
In a little blue farmhouse on a desolate road, sitting on the little blue porch is a little girl.

Her name is Clancy Mae.

Clancy loves her little wooden shoes. She wears them to feed the pigs, to groom and milk the cows, and she wore them on the green- green grass to play. Clancy loves to play on the green silky grass and to talk with the cows and pigs whom often chortle and listen to the little girl.
"Clancy Mae!" Clancy turns on the step, the wood catching her shirt tails, and her Grandmamma stands in the doorway. Through the mesh screen and tinted glass her Grandmamma Mae looked dark and scary. Her cocoa skin was creamy and her flower print dress is a dark navy blue with creamy brown flowers. As Grandmamma Mae moves the dark mesh makes her skin look like its moving, like it's alive. "It's time to feed the dogs, Clancy Mae." Her voice was like a mixture of tired and amused.
Clancy stands and looks around for her wooden shoes. She always puts them in the same spot, every day; under the porch, by the Lavender plants, in the shade, but where the sun can touch the toes so when Clancy puts them on they are warm. And sun touched.
But the shoes aren't there. "Grandmamma!" Clancy turns, frantically. Looking. Searching. With the scream, her breathe hitches in her throat.
They aren't there. "Where are my shoes, Grandmamma Mae?" Clancy Mae lowers to her knees, pressing them into the soft wood. Her nails touch the sot dirt, her dark skin blending in with the shadows. Clancy's breath hitches in her throat and the Lavender smell rests on her tongue and tastes like acid. The sun touches her toes and the afternoon heat brushes Clancy Mae's skin. But Grandmamma Mae is in the house and can't hear Clancy. She can't hear the child's scared scream or the way Clancy is frantically looking for her shoes in the soft dirt.
Clancy Mae can't find her little wooden shoes.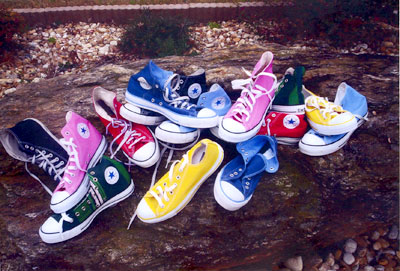 © Leandra L., Stockbridge, GA