Thirty Minutes For an Apology
MAG
July 4, 2014
You and I rode the paddle boats. We had thirty minutes before they were due back, and you, of course, were determined to make the best of it. As our feet pumped, you tilted your head in a way you thought dreamy.

"God," you said, "when did you become so beautiful?"

You wanted me to be impressed with you, and I wanted to pretend I wasn't.

"Is that what you say to all the girls you take out on the lake?" I asked in that same dreamy, slightly astonished tone, mocking you.

You laughed. "And when did you become so feisty?"

I have always been. You just never noticed.

"You know, I think it was meant to be that we ended up here, out on this lake," you said.

I had actually been trying to be a teenager prior to my mom's all-but-blunt encouragement. ("I'm worried about you, sweetie. When I was your age, I was hanging out at the Piggly Wiggly with my friends. You just sit around in your fuzzy socks. Blah blah blah.") Mason had been talking about going to the lake to fish with you as we idled outside Walgreens in the old, puttering minivan waiting for our mom. He had been drumming his thumbs against the dust-covered steering wheel.

"I want to go."

He had met my eyes in the rear-view. "We're just fishing," he had said in a careful tone of boredom.

"I don't care."

"We're going to be there a while."

"I'll rent a paddle boat."

"We're leaving early. Like at eight."

"So I'll get up at seven. Stop trying to discourage me. I'm going."

That's how I ended up in the paddle boat with you. Not fate or destiny. You had suggested coming with me, insisted on it. You thought you were so charming. I suppose you are. You're like a puppy that loves too much, licking the hands of everyone you meet. I'm the only one who sees the rangy street dog underneath your skin. The one that begs for affection like food scraps.

I had let you come with me because, in all truth, I didn't want to be alone. I'm weak like that.

"Is that so?" I asked you.

You turned your face up to the sun. The glow played across your nose, your cheek bones. You have a talent of looking like an angel, you know that? "Don't you think so?"

"No, not particularly."

You frowned. You didn't look so angelic then. "What do you want from me, woman?"

"I want you to be honest with me," I said. "Be real for once."

You were so disturbed by my comment that you stopped peddling. We sat in the middle of the burning hot lake. "I am. Always honest."

Careful now, your street dog was barring its ugly, grayed teeth.

"Then tell me, are you happy?"

"Of course I am."

"Really?"

"Really."

"I don't think anyone is completely happy. We're all entitled to our own sadness."

You frowned again, and it occurred to me that I was being unfair. I have a knack for that. Forgive me.

Shyly now, I asked, "Where do you see yourself in five years?"

I'm a lawyer, you see. I only ask questions I already know the answers to. You had told my parents many times after Mason had already slipped down the steps to his room. You're going to take a class at the local college in your senior year, get a two-year degree, and get hired at the prestigious local factory. Then you'll settle down with a charming wife and have two point five kids, and a golden retriever. The American dream.

You were smiling again. You made happy circles in the water. Maybe you are ultimately unconditionally happy. Maybe you don't see that the boy you are is a long way off from being the man you want to be. Sorry! Sorry!

You didn't ask me where I saw myself in five years. It's okay. I didn't expect you to. But I'll tell you. In five years, I'll be twenty-two. I want to be living in a country where I don't speak the language – France maybe – and be a struggling writer. I'll be poor, lonely, and living in an apartment the size of a shoebox. It'll be hard, but I'll be so very alive.

One day, on a whim, I'll go to a café where I can only afford some kind of dainty pastry. I pick at it, taking my time, because I'm trying to avoid the landlord. The rent is due and I don't have it. The busboy tells me I'm taking up tables. He suggests I apply for a job. I do and become the official dishwasher. I go back to my ratty apartment with blistered red hands each night, but I'll be so alive.

I'll be so very alive!

There's more to it than that. (An epic but tragic love story between busboy and me!) Maybe you'll ask for the rest one day. Ha! Doubtful.

When our thirty minutes were up, we peddled back to the docks. You helped me out, and your hand lingered on mine.

"God," you said, "when did I start to love you?"

You moved in then. I shoved you. You fell into the lake. Sorry about that, but I wasn't about to let you kiss me.

I will not be your charming wife, have two point five kids, or adopt a golden retriever.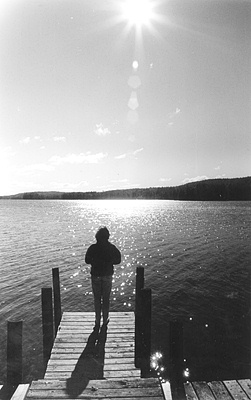 © Beth S., Marblehead, MA