Forty Feet
July 29, 2014
She pried the window open. "Go first," she said hurriedly. Thick smoke had begun to vibrate around the room, acrid and putrid, wrapping its fingers around my neck and choking me. Flames lingered on the other side of the closed door, daring to creep in through the cracks. Billows of smog whirled by the ceiling.

Elizabeth coughed. I gasped for breath and placed my foot on the windowsill. Wriggling through the tight space, I reached out to grasp the handle of the fire escape railing. My hand twitched and waggled around, searching for that rusty metal handle. It clutched nothing but air.

Something was wrong. I vowed myself to open my eyes despite the stinging blazes. I looked down. My heart leaped. No fire escape! It was 40 feet to the ground. I pictured myself plummeting down, down, down and crashing my skull on the concrete below. Or Elizabeth and I both staying in the building, waiting for the bitter, wicked fire to torture and burn us…

Someone grabbed me. My foot slipped on the windowsill. I reached out to find something to stable myself, but there was nothing. I heard Elizabeth whisper, "No…" She grabbed my legs in despair. But it was too late. I let go of the window pane and slipped completely. I was falling.

40 feet. I clasped my eyes shut. Wind streamed past my sides and gushed in and out of my ears. My lungs burst for air, but I couldn't breathe. I braced myself for the crash on the rough concrete and spread out my arms. It was coming.

Suddenly, the pounding in my ears stopped. The wind stopped swishing up my body. My arms. They were changing. A feeling of flight and ecstasy filled me. I pried my eyes open. I had stopped falling in midair. I froze. I was changing.

My arms had power. I could feel strength and balance in my middle. I twitched my finger just a little bit. I moved up. With enthusiasm I began fluttering my arms up and down as fast as I could. I swooshed up. By kicking my legs I went even faster.

I had discovered my ability to fly.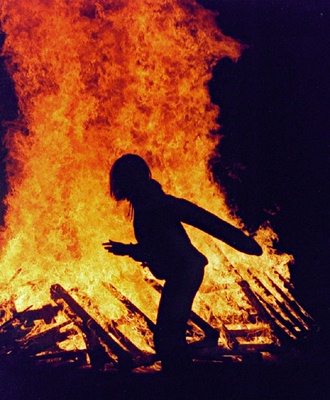 © Hali S., Robinson, IL