Myrtle & Alice
October 8, 2014
"Myrtle! Where in god's name have you been?"
Myrtle whips her head up. She is drawing, her hand an awkward claw over the pencil. She leans over the paper. "Nowhere."
"Liar. You weren't here half an hour ago. I've been checking." Alice is standing in the doorway, hip against the edge of it.
Myrtle scratches dark lines in the corner. "I was here. I don't know what you're talking about."
"Believe it or not, Myrtle, I'm not as stupid as I look."
"Of course not, no one could be that stupid. I was in the bathroom. Mexican food does not agree with my digestion."
Alice's arms are crossed. She is irate, and Myrtle can see the disbelief in the angle of her brows. She adds a sloping curve to her sketch. It is too small, so she erases it, and tries again.
"Myrtle. Myrtle. Myrtle. You know what? Fine. Ignore me. I don't care. Dinner's in an hour." Alice slams the door on her way out, which is stupid, as Myrtle had had it open to begin with. For someone who claimed to loathe all things clandestine, she sure made it easy to make excuses. Myrtle smiles. There is eraser dust on her paper. She blows on it. Dust floats around her small yellow room, revealed by the early evening sun. She takes a gulp of soda from the can on her desk. It sends bubbles up her nose. She vaguely wishes for music. And pasta. She wonders if Alice will make spaghetti for dinner. She decides to stand up, and ask.
Alice is sitting on the couch, watching a reality show. A glass of dark wine is held in her hands. She must have had a bad day, she hardly ever drinks.

"I don't understand why you watch these shows." Myrtle heads for the pantry, looking for a snack.

"It's fascinating. I mean these are actually people. And they've decided that the height of beauty is to be orange and stretched out like rubber and soft plastic. I get to be be condescending of their immaturity and admiring of that guy's abs at the same time."

"So he's not rubber and plastic?"

"And spray-tanned, but he's only in wide shots and the picture's not clear enough on the TV for me to tell most of the time." Alice sips her glass, "Or at least, little enough time that I can ignore it."
Myrtle finds a box of crackers. She checks how full it is. "Hey, Alice, we need more snacks."
"We have plenty of snacks."
"Your rice cake's don't count. They're disgusting."
"They are also organic and healthy."
Myrtle closes the pantry door. It makes a dull clunking noise. She shakes the box of crackers. "They're glorified chunks of dust."
"You can't survive purely on cheese crackers, you know." Alice protests, but she sticks her hand into the box and pulls out a fistful. Myrtle sits next to her on the couch. They watch the show for a minute.

Alice settles a long arm around Myrtle's small shoulders, "I'm still pissed at you, you know. I'm just working up the energy for a screaming match."

"I didn't go anywhere."
"Shut up. If you don't lie to me right now I'll try to be lenient when I actually decide to punish you."
"It's not like I'm going to any wild parties or anything."
"Mmmm… I suppose. You need to tell me, though. Technically, I'm responsible for you."
"Yeah, but for only, like, a month."

Alice sighs, and shrugs. The show has cut to a commercial break. An advertisement for cat litter is playing. Alice flips the channel. She lands on a show where a couple's house gets renovated. Myrtle crunches her crackers. "Who would choose purple paisley wallpaper?"
"You have to go back farther than that, Myrtle. Who would make purple paisley wallpaper in the first place?"
"Hmm." Myrtle concedes. She eats another handful of crackers, "I went to the music shop. With Leland and Di. There's some guitar she wants."

Alice watches the television for a minute. The couple is arguing over types of faucets. She shifts her arm on Myrtle. "You are not grounded, but-"

"Like you could ever ground me."
"Shut up. You are not grounded, but if you go out without telling me ever again there'll be hell to pay. The last thing I needs is calling Mom and Dad and telling them you ran off with some shaggy-haired, angst-ridden guy, and got hit by a truck."
"Ooooaky…"

"You'll stay in tomorrow and vacuum the house. Every room. Make 'em spotless."

"But why an angsty guy and a truck?"
"I couldn't decide which was a worse fate." Alice stands up quickly, leaning back to adjust her spine. "Now what do you want for real food?"
"Pasta?" Myrtle focuses her full attention on the television and the crackers. Alice goes to boil the water.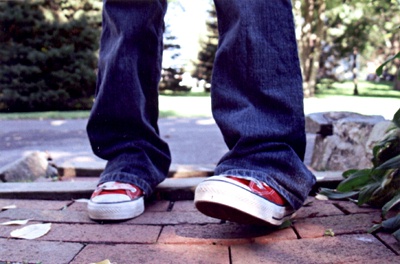 © Sara M., Milford, CT