Towers
February 8, 2015
It was called "Towers". A name fit for a King's abode, indeed, but in truth, it was only a cottage. Only a cottage, of course, is a statement merely descriptive of its size and simplicity in relation to a palace, for even that which is small and simple can possess great beauty. Such was indeed the case of "Towers", though it is hard to say why a cottage very much like any other was beautiful. A quadrangular building of two stories, built out of grey stone with timber frame around, it had a certain austerity to it, certainly. And yet, this austerity was coupled with an idyllic picture of peace and happiness, one which was almost entirely transmitted not by the cottage itself, but rather by the scenery on which it was located.
"Towers" was paradisiacal, in a sense, because it was so distant from everything. Located in the heart of a large wood, it dwelt in a joyful drowsiness magnified by natural beauty. There was no music at all, no sound but that of birds chirping and the wind slipping through the leaves. Yet, there was a melody in the air which was felt rather than heard. The sweetest notes imaginable to man floated about with incredible ease through that forest, enchanting all those that beheld it. The imposing trees, like nymphs all a flutter, their fair brown bodies growing to their slender arms, which boastfully held their soft green hair for all to see. Thus played the music of delight, straight to the heart, for once not walking the paths of audition. All music is felt. All art is felt. All beauty is felt. Music is art, art is beauty, and the wood was all that.
The high grass enviously reached for the trees, ruthlessly sprouting through the brown soil and lustfully waving its thin body as the wind rustled past. An experienced seducer, it attracted all men to lie upon it, enchanting them with its softness and the natural sense of contentment it instilled in their troubled hearts. It grew in several patches, often much like puddles, occupying no more space than a carpet. However, there were patches which extended to sea-like lengths, as far as the eye could see, and much further than the devil could tempt. During the summer, the sun shone over it, providing it with such a warm, bright glaze that many were those who, finding themselves in so isolated a place, wished for nothing but to dive into those waters of peace. During the autumn, or really any normal English day, it shone with the heavy drops of rain that descended upon it in wrath, as if Heaven itself were punishing the grass for its vanity and defiance. Punished though it may have been, it lost no beauty.
Embracing the trees in passionate love, like that of a child for its mother, were curtains of dark green moss. They were born at the root, starting off as minuscule green specs, dripped over the brims of the trees' long tunics. So modest a birth gave way to a union between the small mossy islands, which then began to connect. A garland would start to go around the majestic body, first around the legs, then rising to the waist, until it reached its bosom and rested there, in perfect happiness upon its mother's chest. And like any child, it added to its mother's joie de vivre, who showed this as they raised their arms towards the sun in praise of their joyous state, and in undying gratitude for their adoring mossy children.
Then, of course, there were the maidens of the wood, the innocent, fluttering flowers. Though all wild and uneven in location, sometimes found as a speck of blood in the midst of the seas of grass, and others at the bottom of trees, lonely and pale in expression, so fragile and yet so fair. In savage rhythm, the poppies which were scattered round the wood danced, like the grass, like the leaves and like the trees. At times, when the wind assumed a belligerent spirit, it wounded said flowers by tearing off some of their petals. Yet poppies, though innocent like any other flower, are strong, and can well bear the loss of some beauty provided not all is stolen. There were white roses, magnificent to behold, yet perilous to touch, hanging like clouds over the dirt.
The whole forest lay under a blanket of leaves which shielded it from the outside world. Under it, perfection was completely preserved. Trees remained standing and all around them lived. The birds still twittered and flew around, and the wind still chilled said blanket with mighty determination. Everything in the forest, from the flowers to the grass, met every adversity with a calm resoluteness that was scarcely possible for men. It was often that howling gusts hurled themselves at the wood, mercilessly attacking all before them. These were followed by downpours of hellish rain, until finally, all was buried in a mountain of cold, white snow. And yet, all survived, and once again, all flourished. Such are the ways of nature, and even when it seems to suffer most, it never loses its beauty, and above all, it does not perish at its own hand. Yet nature, though its own victim from time to time, is never confronted with the feelings of humans, and thus, it cannot be expected to suffer as much as men. And in that wood, so beautiful, so peaceful, so calm, not all was nature, and not all was perfect.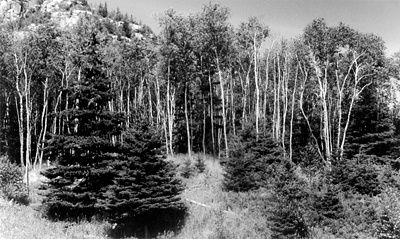 © Steve S., Marblehead, MA