For Bryce
February 25, 2015
"Bryce, you have so much potential! Don't throw it away!"
"You only say that because it's your job! You're being paid to stop me!"
In all of my years of working with troubled people, I had learned to read them. Yet the more I understood, the more I didn't understand, and the closer I came to being troubled myself. You can't work with these kind of people without being somewhat disturbed. I have felt tremendous guilt every time I don't make it in time. But I knew that if I didn't stop Bryce, the guilt would be even more painful and heavy.
I'd known Bryce for about three years, and I always considered he'd come to terms with me and we were friends of a sort. I'd met him only because his mother had started worrying about him, and though he had problems, I didn't think they were worth mental help. The first few weeks had been strained—he was convinced his mother had hired me to fix him, and I tried desperately to maintain peace between us. He grew used to me, and even confided in me sometimes, but I had no idea things had got out of hand until his mom left for the weekend. With her usual over-motherly concern, she asked me to check up on him now and then. I consented, and he and I had our usual meeting, and though he seemed a little nervous, I hadn't thought much of it, until about eight hours later when he called.
"Tell…tell mom I love her and…I'm sorry." I frantically told him not to hang up, already dashing for the door, clutching the cell phone to my ear. He just kept saying he was sorry, and the line went dead half a minute later. I sprinted for my car and made the ten miles to his house in about four minutes. I pulled up in front of the house, fished in my pocket for the key his mom had given to me, and bolted inside and up the stairs. All the house was dark. His door was locked as well, but it was flimsy and I entered without much hinderance. He was sitting in the pool of moonlight filtering in his window, tears running down his face, staring at the gun in his hand. "Bryce!" I said, flipping on the light. He leapt to his feet, clutching the gun like it was his last hope.
"Bryce," I repeated as calmly as I could. I started slowly toward him, keeping my hands away from my sides to show I wasn't a threat. "Bryce, please listen to me." He bit his lip and jerked his head from side to side. He was the complete picture of misery.
"No," he said. "no. Don't try to stop me. I'm not worth it."
"Yes you are! You're a wonderful person!"
"That won't work on me," he said, trying to make his voice hard but not succeeding. "You don't mean it. You don't understand. You don't care about me!"
"I do care, and I want to understand. Why do you want to do this? So many people love you!"
He bit his lip, and the tears trickled down his cheeks unceasingly. He was so young. After this was over I would probably chuck up someplace.
"Bryce, you have so much potential! Don't throw it away!"
"You only say that because it's your job! You're being paid to stop me!"
I stepped slowly forward, trying to keep my voice low and even, beating myself for every minute I had not listened wholeheartedly in our meetings. He shook his head and started backing away, toward his second-story window. Seeing the danger, I moved faster. "Bryce, be sensible. You're a good kid. There's so much you could do with your life. You're better than this!"
He shook his head. "No," he gasped. "I'm not." His fingers touched the sill behind him and he spun. "Bryce!" I barked, and moved like lightning. I yanked him away from the window, prying the gun from his fingers. He fought me, but I pinned his arms behind his back and cuffed them there. I released him, breathing heavily with relief. He began to sob violently and sank to his knees. "No," he choked. "no, no." I let him cry a moment, then gripped his shoulder.
"Bryce," I said softly, feeling the adrenaline drain from my veins and time return to normal. "Why did you want to do it?"
"Now you're going to send me to prison, aren't you?"
"What have you done, Bryce?" He did not respond and I shook him. "Answer me Bryce!"
"Closet," he murmured miserably. I moved toward the closet at the other end of the room, keeping one eye on him, just to be sure. I opened the door to reveal some clothes and a bunch of shoe-boxes. I opened one. I stared at it's contents a moment, feeling sick, then carefully replaced the lid and returned to Bryce's side. "You can do this Bryce. I'm not going to send you to prison. I'm just going to see that you get help. You just need to get off it."
"I can't!" he wailed. "I've tried, a thousand times I've tried! I've cursed myself and wanted to die. I finally resolved to do it, and then you stopped me. Please," he moaned. "please, just kill me!"
I tightened my grip on his shoulder. "Bryce, other people have beat it and you can too. I'm going to take you to a place where they can help you. You can do it!"
"I can't!"
"You can! But you need to believe you can. You need to be willing to sacrifice for it. Can you do that?"
He hesitated, then nodded weakly.
"Come on," I said, helping him rise. "Let's go."
I took him to my house and called his mom. When she finally arrived I watched silently as she cried in relief and threw her arms around her son, senselessly repeating his name. He didn't move to hug her back, he just stared glassy eyed at the wall behind her, limp and unreadable. He showed no emotion until I took him back to his room and he cried, until he seemed he could never stop.
The next week I watched as he was led away, and how relieved and terrified he looked. I'll never forget how guilty I felt not being able to weep with him. Yet I somehow knew that wouldn't help either of us. So I watched as he and his mother parted again, remorse flooding my body like a poison. Then I pushed it away. Even if I could have done anything to prevent it, it did no good to dwell on it now. I had done my best, and that was all I could do.
Twelve years later, he is now at my side, working to save others like himself. I feel tremendously proud and honored to have him working with me. He is happy, so far as I can tell, and has saved more than a dozen lives. I'm glad for Bryce. I'm glad I was there to help him, and glad that he is happy now, and helping people. But mostly I'm glad that he was able to forgive himself. In the end, that's what made the biggest difference.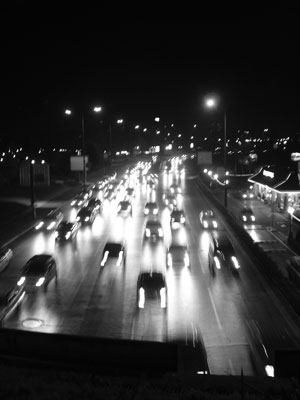 © Marietta S., Pleven, Bulgaria