The Cuban Cigar
March 14, 2015
Slick. Tuxedo-black eyes and a cardboard suit. Fingering his thin wedding band, haggard eyes on the floor and gleaming briefcase in hand. He does not speak much. People do try; bolero music, black coffee, baseball, beers. But then you catch his charcoal gaze, maybe, by chance, and you think 'Is he even there?' Well, that's only if you get past the glass and the chrome and the leather muscling in. Not to mention the overbearing cologne…

Today. Wall Street is an artery clogged with office ties, pencil skirts and eyes that wail. The unshakeable, the golden, the eternally prosperous American economy has cost every sharply-dressed, laptop-worshipping being in the street, their prized employment status.

But then, amongst the crush of cutting cries and complaints, a captivating Cuban wears a cool gaze. You rub your eyes and look again. You see the fine lines in his face, the defiant glint. He leans back casually in his seat at a café. You ogle; you cannot help it.

Sitting across from him is a woman, with smeared brazen lipstick and tightened eyebrows. She wears spiky heels. Her hands are bare, save for the crimson nails. Her mouth is a siren, reeling in despair.

"How can this be the great USA?" There is nothing shriller than that.

He is silent. The sunken grooves beneath his eyes, strange without the spectacles, hold up that cool, cool gaze. And then you notice the mangled laptop at his feet, the scattered paperwork and the cologne now mixed with sweat. The Cuban is enrobed in a quiet anger. You stare.

Slowly, deliberately, his hands delve into his pockets. His lips already wield a cinnamon-brown cigar that itches for a flame. The woman hands him a lighter and their fingers brush briefly. He lights up. Slowly, deliberately, his hands search his pockets again. And slowly, deliberately, he places it in the line of fire; a crisp, green note with Benjamin Franklin's face. Slowly, deliberately, it burns and it burns and it burns.

Eyes wild and hysterical, the woman leaps out of her chair. He smiles. You feel electric as you seize his rebel-black stare. You think, 'So that is what is really there.'

And the mystery deepens.

"Sit back down," he says, "I am only killing the American dollar, dear."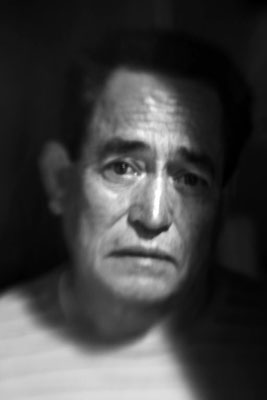 © Adam P., Goleta, CA