A Christmas Card
MAG
December 28, 2015
Happy Holidays to all of you: friends, fake friends, annoying in-laws, neighbors-who-never-mow-their-lawn, and co-workers that I'm only sending this to to be polite. As you can see, we have chosen to use the greeting "Happy Holidays" this year to be sure not to offend anyone with any non-Christian beliefs. Oh, your religion prohibits celebrating holidays? My apologies. I'll write you a separate card. After all, in 2018, it's a must to be politically correct.
I'm sorry I'm getting this out to everyone only a few days before Christmas. I'd use the excuse that the post is being bombarded with holiday greetings, but I'm sending this greeting over Facebook and email because being classless and cheap is the way to go these days! Plus, it proves that even though I'm aging, I'm still hip enough to use the computer.
2018 was a great year for our family. As you can see from the 30 pictures we included, our family definitely had more fun, more vacations, and more achievements than yours. We also conveniently picked photos where I dressed the kids in designer clothes, even though I got them at a flea market. That Eiffel Tower picture? Shhh – it's actually from a day trip to Paris, Las Vegas. My son holding his 1st place science fair ribbon? He was the only one who entered. The kids holding the cute dog? We just put Sadie to sleep after she chewed our furniture, infected our house with fleas, and suffered from chronic diarrhea, but she was a great dog for the two weeks that we had her.
Since I haven't seen, talked, or corresponded with most of you since last Christmas, here's a little update on our family. John and I have been happily married for almost 19 years. We weren't able to take our 20th honeymoon this year because of the kids' soccer season, but we felt that since we've already been to six continents, there really wasn't any more of the world we wanted to see. John is still working at XYZ company. He's in charge of over 200 associates and 10 managers. I want to make it sound like he's a really important director, but in reality there's 300 other directors, but you don't know that. Our son Matt is finishing up his first semester of his junior year of high school. He's in student council, newspaper, forensics, student ambassadors, youth ministry, Model UN, Boy Scouts, fishing club, geek squad, students in support of legalization of heroin, manga as an alternative career, ISIS, and some many other meaningful organizations. The soccer captain is Matt's friend's girlfriend's sister's friend's uncle's neighbor, so Matt's basically captain of his team. We're so proud of him!! Kate just turned 13 and is lovely, caring, and kind (of annoying). There's the terrible twos, but these thirteens are just … terrific! She loves to read (text messages) and design her own clothes (by turning every shirt into a crop-top). We're so excited to see what she becomes in the next few years! And me? Well, this genuine smile I have in the picture just shows how much I enjoy my life, family, and the many blessings we've had this year!
We hope to hear from each and every one of you at some point in our lifetime because there's no way if we say "this year" that we'll actually respond. Wishing you all a great new year – and by great we mean good, but not as good as ours!
With love and a shot of cynicism,
The Smith Family
P.S. Send any cards to me at my new home address since John and I are getting divorced in two weeks. Matt would really appreciate your thoughts and prayers in the psychiatric ward of our hospital. Kate now lives with her Grandma, but she loves the calmness versus the hell hole we have been living in.
Happy Holidays!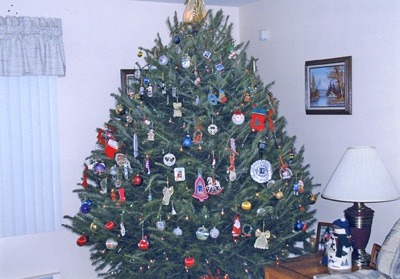 © Brian N., Mildford, CT