Dirty Laundry
March 24, 2009
He was down there again with her. Not that I minded. Not that I should have minded. It wasn't my business, anyway, as he had so eagerly pointed out to me many times before. I liked her anyway. We had certain things in common that I could talk to her about. Well, that I could talk to her more about than with him.


I felt bad when she was over, though. Like I was constantly intruding. Like this wasn't my place. Even though it was more my place than hers. She was more the intruder than I was. But he loved her. Or so he said. He'll move on, I kept thinking to myself, but he never did. It was for the best, I guess. She was better than all the rest, I must admit.


"I'm coming down," I announced and stepped down the tiled steps to reveal them in, more than likely, completely different positions than what they had been in just moments before.


He eyed me oddly, trying to look as casual as possible. He nonchalantly glanced at her and she was smiling, trying to look more casual than she could take credit for. They were watching TV. Well, the TV was on. Props couldn't fool me. They never had before.

She wanted me to like her; I could tell. She always acted especially nice to me, trying to make conversation I could live without. She was there to see him, not me. It didn't matter to me what she thought of me, so why should my opinion matter to her? It did all the same. She shouldn't have taken it personally, though. I'm not one to like many people.

I prefer solidarity, though I can keep my secrets better than they can. I smile at how little they know about me. The innocent little sister they expected.

I stepped into the laundry room and wondered if he was already back to his old position, trying to cradle her in a way I knew she would try to push him from. She was more scared than he was. She was more timid than he was.

"We can't," I barely heard her whisper.

"Real quick," he urged. I could hear the springs reveal his movement.

I swallowed, feeling dirty, and tried to focus on the shirt I had gone downstairs to find. I couldn't help but listen when they were so close to me. I wanted to shout out to them, like I had before. Like I had at his birthday. Everyone had turned to stare, but she had changed the subject before they saw me turn red. She had understood my discomfort, and took pity on me despite my attempt at exposing them. Maybe that, too, was an attempt to get me to like her. It was pathetic. Sweet in some creepy sense, but pathetic nonetheless.

I quickly walked out of the room with my shirt and saw him once again pull away from her so fast it was like she was the plague. I smiled to myself, amazed at my own ability. I had the ability to make him fall out of love with her in a second. I had the ability to make them fear being by each other.

I walked back up the steps, counting the seconds until he would forget how much he was afraid of her.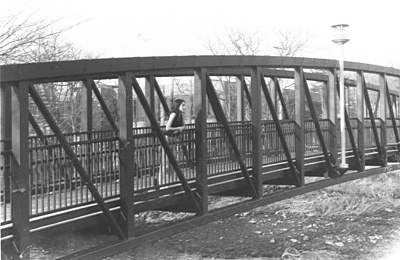 © Kim L., Milford, CT