Sunset
March 8, 2009
The definition of sunset is : the setting of the sun; the last appearance of the sun in the evening; the time of day when the sun sets; the close of a day.

It's the ending of another day in your life that seems to pass much to quickly. Most people have learned to enjoy their life and live each day to the fullest. I have learned to do this, although not on my own. I had some help and inspiration fro my dear childhood friend Amelie.

Amelie and me were just 11 when we met for the first time. She had just moved in next door to me from Quebec, where she had lived all her life with her parents until they were killed in a tragic car accident. She had come to live with her aunt, who just so happened to be my neighbour and my mothers best friend.

Amelie was veery short for our age, and she was very pale and thin. She that this was because she was sick a lot. At the time, to me, sick meant a runny nose, coughing and a sore throat.maybe a fever if it was really bad. But Amelie didn't look as if she was only sick like that, although she acted like she was all right, I suspected that there was something that they weren't telling me.

That summer we spent almost every hour of every day together. Both outside and either in my house or hers. One day, we had been outside since around 9 am and the sun was just beginning to set. We layed down on her back lawn and watched as the sky changed colours and the sun slowly began its descent. Just as the sun had disappeared until only a tiny crescent remained, Amelie turned to me and said in a strong voice, "I love life. I wish eet would never end. But, I know zat eet will someday, maybe soon. So from now on until zat day, I will do everyting I can to make it absolutely incroyable!"

Three days later, school started again. We were both in the same class and we would walk to school together every day and home together every day. We became closer than ever. She was my best friend and I was hers. We were inseperable.

One morning, only two and a half weeks into the school year, I left my house to head to school with Amelie. I was extremely surprised when I saw that she wasn't standing there waiting for me like she always was. I went up her walkway, up the front steps and knocked on her door. When there was no answer I concluded that she had gotten a ride to school from her aunt, because there was no car in the driveway, and she had simply forgotten to tell me.

That day at school, there was still no Amelie. I began to worry. I didn't know where she was! Then, during Social Studies I was called down to the office. My mom and Amelie's aunt were standing there waiting for me. They both looked like they had crying. A lot.

I was panicking as I slowly approached them. My mom told me that I should sit down, when I had reached them. I did as I was told and plunked into the nearest chair. My mom and Amelie's aunt came and knelt in front of me.

Quietly they told me that Amelie had become very sick during the night and had to be rushed to the hospital. She had, they told me, a very rare form of lung cancer. When they arrived at the hospital the doctor examined her and gravely told her aunt that there was nothing that they could do for little Amelie, the cancer had spread to far. She passed away peacefully late this morning.

By the end of their sad, sad tale, I was bawling and the two grown women were crouched on either side of me hugging me and crying as well.

I am now 18 years old, and I've learned many things but the most important was an unbelievable lesson on life from Amelie, a dying little girl who was my childhood best friemd. She taught me that life is short, too short sometimes, and its unpredictable, so you should make the absolute best of it every day. Make your life "absolutely incroyable!" And ever since her death, I have.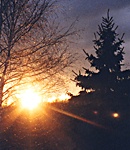 © Christy S., Germantown, NY