Same Kind of Different
March 25, 2019
"C'mon, follow me."
"Wh - " before she could even get the word out, he grabbed her arm and pulled her to the back. "Why are we in the back?"
"You'll see."
He gently pushed her down onto the seat, gently but firmly.
"Takito wh - "
"Do you want what you always get?"
"Yes, I guess.. but - "
"Two seconds," he rushed to get food.
***
"I'm back," he held up two bags and two drinks in a paper carrier. "Eat."
"Okay.. " she decided to stop questioning why he was rushing so much. She reached for her bagel.
"But move down first," he stated
"You're going to sit next to me?"
"Yeah,"
"But there's plenty of space on the other side - "
"Come on Holly. I know you want me to sit here, but you don't want me to be uncomfortable. Trust me, I'll be comfortable next to you."
He was spot - on. She slid to the right, and she went far enough to the point where he could slip in easily but she would still have enough space.
He slid down really close to her.
"Takito?"
"Yes?" his right hand slid into her hair and he lay his head on hers.
"What are you doing?"
"Loving you. Just continue eating."
That was an amazing offer. So she took it. His left arm went around her waist.
***
Fifteen minutes later, she had finished her bagel and was halfway into Takito's. She was also drinking his hot chocolate.
He had been playing with her hair and placing kisses on her head in the whole fifteen minutes of almost complete silence. The only interruption was when she had timidly asked if she could eat his bagel.
He quietly asked her, "Do you like the food?"
She nodded silently under his head.
He looked at her. She was so unexpecting. The time was now.
The next time he went in to kiss her head, he went a little lower. His mouth hit the area under her ear and he sucked on it softly.
"T - Takito!" She gave the smallest whimper. "There are people around us!"
"And?" he mumbled into her neck.
"D - don't do anything with me right now, do it at home, what could possibly be different?"
"So many things could be different Holly. For example.. " he glanced down at the pocket of his hoodie. Should he do it right now?
If he was going to change his mind, that was too bad, because he had already pulled out the small black box and flicked it open.
"..your last name."
Her eyes widened and no words came out.
He pulled her into a hug, his lips colliding with hers. His tongue ventured deep into her mouth.
She gasped as she pulled his hood off.
That's how they were engaged, wearing pull - overs, in a corner of a Starbucks, unnoticed by the rest of the world.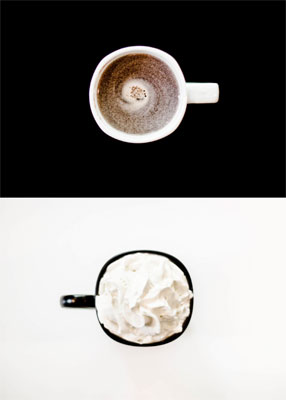 © Abby W., Cookeville, TN