Intensity
June 13, 2009
The tears poured off her eyelids; slid down her cheeks; fell to the floor. Slowly she sank to the ground, trembling slightly. Her breath came in deep sobs, wracking her chest. She barely had enough air. She did not hear the soft footfalls coming ever closer. She did not see him as he sat down next to her. She did, however, feel as his arm wrapped around her shoulders. Turning slightly, the girl buried her face in his shoulder. Her friend held her tighter, resting his head in her soft chestnut curls.

The two of them sat that way for what felt like hours; the girl sobbing loudly on the boy's shoulder, the boy holding her quietly, steadfastly. Finally, the girl released her last tear. She looked up at the boy, eyes red from crying, cheeks flushed. He turned to her, a small crooked smile on his lips. To the girl's surprise, tears were slipping down his face as well. "Why are you crying?" she asked softly, voice cracking. The boy considered the question for a second.

"I am crying because you are crying," he replied truthfully as yet another tear trickled down his handsome face. His smile was still there, unwavering.

The girl stared at him with wide eyes. He stared back at her. A chill like an electric current flowed through both of them. The air around them tingled with static. Slowly, as if pulled by some invisible force, the two teenagers moved closer. Their faces were within a hair's breath of each other's. "Why me?" she whispered. "Why did you choose me?" Her eyes darted back and forth, looking for an answer written on his face. "You are the only one who's real. The only one out of all those girls who knows what it means to truly love someone. Even though he broke your heart, you just keep going. I like that. I think… I think I may even love that."

His eyes gleamed with a passion long suppressed. "I think I may love you." His sweet breath lingered on her lips. The girl's heart began to beat frantically, as if trying to keep up with her rapidly changing emotions. "I think I may love you too," she admitted.

Without meaning to, the girl shut her eyes. The two leaned even closer, closing the gap between them. His soft lips pressed against hers. She wrapped her arms around his neck, and his arms coiled around her waist. The kiss deepened.

Gently, they pulled apart. Both were smiling softly. "Thank you," the girl said under her breath, so quiet that the boy sitting right next to her wasn't sure he had heard her at first.

"For what?" She stared deeply into his eyes. He held her gaze, reciprocating the intensity. "For giving me a reason to live again. For saving me from falling."

"Anytime. Thank you, too. Thanks for letting me in. Thanks for not pushing me away."

At the same time, the two teenagers said, "I love you," sealing their fate.

The two leaned in closer, their foreheads, then lips, pressing against the other's.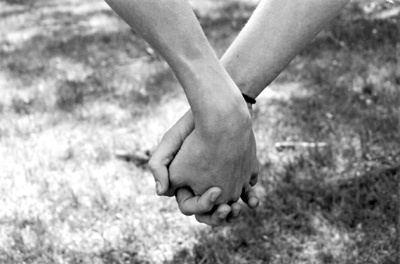 © Alexa T., Pompton Plains, NJ