Dance With Me
July 2, 2009
He stormed over the dew covered grass. His bare feet squished in the mud. Drops of mud splashed up onto his shorts. The humid air made him sweaty and tired. He had just gotten back from a weeklong trip. He was exhausted from the three hour plane ride, but felt the need to go out to their dock.
"Aww, she's gonna be mad," he thought. When he talked to his mom she told him that if she really loved him she would understand. He and Lauren had been best friends since kindergarten. She had always liked him but he just realized his desperate feelings for her recently. He walked to their dock. It had been their meeting spot, hideout, first date, and first kiss spot. He sat down at the end and swung his feet into the cool water. Out of nowhere, the tears just started to roll down his cheeks.
She walks across the muddy grass, with her thumbs latched on to the belt loops in her dirty rolled up jeans. Her black Converse are grass stained, and her baggy tee-shirt falls over her shoulder. She brushed her wispy bangs out of her eyes and wiped the tears out of her eyes.
"How could he be so mean? What did I do? He can't just ignore me for a week after what he told me! I thought he meant it!" she thought. The thoughts only hurt more and her tears came pouring out faster and more intense than before. She kicked a small round rock as hard as she could. It quietly rolled out of her way.
The midnight sky was blanketed with gleaming stars glimmering in the night. She heard the crickets chirping and the lake quietly lapping. As she approached the old wooden dock she looks back at her dark house. It looks so peaceful sitting in the dark. When she turns back toward the water, she saw a dark figure sitting on the edge of the dock. Part of her wanted to run back to the house, but another part dragged her across the dock. The figure was a boy. He turned slightly and saw her come toward him. As soon as she recognized him she turned around and started to storm back to the house.
"Wait. Lauren. Don't go, we need to talk," he called.
"What do you want Jake? You've already broken me in two. The damage is done. Done. I'm done with you, with everything," she half cried.
"My dad died," he whispered.
"What?" Lauren said. Jake's parents divorced five years ago when he was ten. His father had moved away and joined the armies. Although, Jake and his twin brother, Brandon, were upset they were proud of their father. "Why, didn't you tell me?"
"I tried calling you but you didn't answer you phone."
She felt her cheeks burning. She had purposely been avoiding Jake's calls when he hadn't called her the day after their date.
"I am so sorry, Jake. I didn't know," she walked over and sat down next to him. She wrapped her are over his shoulder.
"It's ok. Are you mad that I didn't call you back?" Jake asked her.
"No of course not, now that I understand why," Lauren answered.
He held her other hand on the top of his leg. Despite the sadness of his father's death he felt a tingle of excitement when they touched, and from the twinkling look in her eye, he could tell she felt the same way.
"Well, I was going to invite you to the prom, but ticket sales are over," Jake said after a few quiet minutes.
"S'ok," Lauren said as she rested her head on his shoulder.
"Dance with me," Jake said abruptly.
"Excuse me?"
"Dance with me. The past week all that's happened to me has been sad. I need something happy to remember," he said.
Lauren kicked off her sneakers and put them next to her. Jake stood up first and reached his hand down to help her up. She gently grabbed his hand a pulled herself up. He wrapped his arms around her and she did the same to him. They gently rocked back in forth to nature's soundtrack of quiet water, and chirping crickets. He twirled her out and she gracefully spun back in. After a few minutes, he kissed her forehead.
"I meant what I said," he whispered, "I love you. I always will."
"I know that now. I love you too," Lauren answered in the same quiet whisper.
The slight breeze blew Lauren's hair into their faces. Jake laughed softly and pushed it behind her ear.
"We should get back," he said.
"Probably. I'm really sorry about your dad."
"Like I said it's ok. I love you."
"I love you too," Lauren answered.
Jake ran back towards his house he looked back about half way there and smiled. Lauren waited until she heard his screen door shut before she headed back. As she started back towards her house she thought she heard the wind whisper very softly, "Dance with me." She smiled to herself and went inside.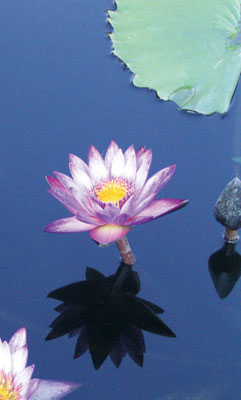 © Hilary B., Barrington, RI