Life Running Beautifully
August 5, 2009
I watch him slip away. His beautiful chocolate eyes closing. Listening carefully, I hear his last ragged breath enter his worn out lungs. His hand goes limp in mine. I kiss him softly on his lips and let my tears escape me. I turn away from his bed and walk out into the hospital hallway. Nurses quietly slip around me and get him ready to go to the funeral home. My family comes rushing over to me. Whispering words of encouragement and hope into my ears.
We walk out to the car, my grandchildren holding my hand the whole way. The one he last held is now in their tiny palms. In the car I look out the window. I think back to the days we laughed and played together. I smile to myself, a flashback entering my mind. "C'mon, I bet I can beat you to the creek!" We took off after the small river in the park. "Last one there is a rotten egg!" I yelled at him over my shoulder. My shirt, pants, and sandals fly off of me, revealing my bathing suit. We get there at the same time, giggling and splashing water at each other.
The trees flash past and I ready myself for the rest of my life, no matter how long it is.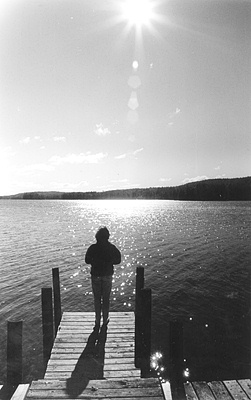 © Beth S., Marblehead, MA