Memories
September 22, 2009
The sound of your sneakers slapping against the pavement echoes through the street. I listened to it, committing it to memory, music to my ears. Your eyes glowed with warmth as you looked at me, and I burned the image into my brain. I want to always remember how it felt when you would gently wrap your arms around me, and the smell of the jacket that you draped over my shoulders when it was cold.
I always want to remember the day I got the flu, and then I threw up on your shoes, and I thought you would be mad, but instead you drove me home and brought me chicken soup the next day.
And the day I was trying to write you a poem, but I couldn't get it to come out right, since there has yet to be a word invented to describe the way I felt about you...(will always feel about you.) And I had my head in my hands, and I was getting really frustrated. I didn't hear you sneaking up behind me, nor did I notice you quietly reading over my shoulder, and I didn't even realize you were there until you put your hand on my shoulder. And I turned around. And there were tears in your eyes. And you told me that it was beautiful, and that I was beautiful, and that you'd never want to be with anyone else.
I always want to remember the streaks of gold in your chestnut hair that glinted in the sunlight.
And the time we went to that party, but it was so loud and the people were being obnoxious so we left and went for a walk on the beach instead. The moon was so bright, and the water had a beautiful white glow to it. I'll probably always remember that you had a nervous look on your face as you skipped a rock, and slowly turned to blurt out "I love you." And I know I'll always remember the way I felt when you said that, and how, when I told you I loved you too, I wondered how anyone could be this lucky.
I always want to remember the way you would bite down on your lip when you felt guilty about something.
I don't really want to remember that fight we had last week. I told you to go away and that I never wanted to see you again, and you said that was fine with you.
Even more than that, I don't want to remember yesterday, when you were waiting outside of my house as I got home. And I honestly don't remember exactly what you said to me, but unfortunately I remember what it meant. I remember that you said goodbye, though. And I remember that a single tear rolled down my cheek, and your hand twitched, like you wanted to comfort me, like you used to all the other times that I cried. I remember I thought that maybe you would take it all back and tell me you were sorry and you loved me and that you would always love me. Instead, I remember you turning around and walking away.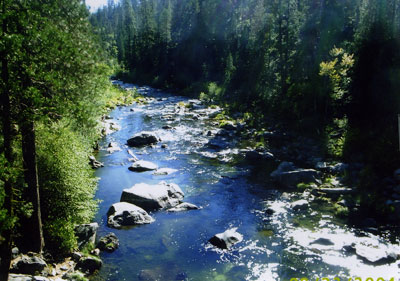 © Laycie C., Stockton, CA