Why Do I Always Go Down?-Part 2
October 10, 2009
After I reached the top of the hill, I looked to my left and right. There was a street sign that read "Linley Lane". I thought that was convienent. Remembering the address (415), I started to jog towards the sign.

A loud Mustang flew by me, and my long black hair whipped around my face. I coughed as the wind continued to blow, and I could feel my hands start to numb up.

I ran a little faster until I reached the first house on Linley Lane. My dark green eyes darted from place to place, and I started to realize that this neighborhood was empty.

Not a single drive-way had a car, not a single window held light, and not a single front lawn was decorated with little faux ceramic gnomes. My mind started to buzz with confusion when my sharp eye-sight picked up the numbers 415.

But they weren't a house number. They were spray-painted onto the road with an arrow pointing to a random spot in the grass. But, there was a two floor brick house a little to the left of the arrow. I smiled. Clever.

I jogged up to the front door, and saw that it was unlocked and slightly ajar. I assumed this was meant for me. I pushed the green door open the whole way and stepped into a hall.

It was creepy. No lights were on and there was not a single decoration or piece of furniture. The walls were off white and the floor was a red shag carpet. I stepped forward, and was greeted by the creaking of what I assumed was ancient hardwood flooring underneath all the carpeting.

I paused, and made sure nothing was going to jump out at me. I waited before going forward. I reached the kitchen, which was just as barren as the hallway. The only things were an old fridge, a black dishwasher and a stainless steel microwave that was sitting on the countertop. Nothing matched, and it was funny.

"G!" I called out. My voice reverberated off the walls and met my ears again. I could hear an echo.

A thud sounded right above my head. I jumped and waited for something to oome crashing down on me. But, nothing did. Another thud was made off to the right of me, where a door was.

The door cracked, and a calloused hand popped out. A red-clothed arm was soon to follow, and then a torso and jeans. Soon came a head and the other half of the person's body.

It was a man. He was about 6' 2". He had sandy blond hair and a piercing blue gaze. His nose was slightly crooked, as if it had been broken before. He had a crooked grin, and it made me smile.

What made me cock my eyebrows was the fact that he had his hands behind his head, as if I was going to arrest him. He smiled back and proceeded to explain.

"Just wanted to make sure you didn't have a weapon this time," he said. His voice was gravelly and deep, but it suited him.

"And why would I have a weapon?" I asked. I went through my barren mind to see if I could find any memories of me with a weapon, but there were none. My memory was about as far back as when I woke up this morning.

"You've came to the house armed before..." He smiled and wrapped his arm around me. I felt safe leaning against his right side. But, I didn't remember who he was. I actually didn't even remember who I was.

"I don't know who I am," I said. The words were sort of funny, and it made me giggle.

"Ah, this side of you. The one that laughs at everything," G said, smiling. I looked at him, stunned.

"Well, first off, your name is Alexandra, but I call you Alex. You are about 5'8" and 120 pounds. You are 22 years young, and I am your boyfriend. Every evening, you run off, do something in the woods, that of which I don't know, and then you wake up in that ravine, mysteriously without your memory." He smiled and I gasped.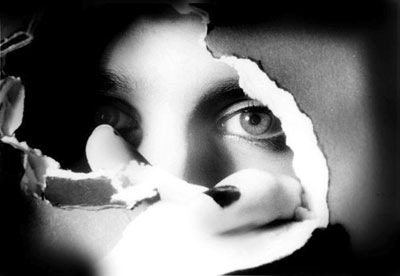 © Tabatha B., Peoria, IL