Light
October 4, 2009
He leans in, his breath hot on my face, his shaggy black hair falling in his hazel eyes over his white skin. I can hardly breath, he's so... him. His body is against mine as I lean against the wall, my arms curving around his neck. I can feel the cool stone wall behind my back, but I don't care as he leans in and his lips touch mine.
Fireworks explode before our eyes as he runs his hands through my strawberry blonde hair, smiling into the kiss. I pull him closer, kissing him hard. For a while that's all we do.
When we pull apart, there's just a moment of calm silence as we lean against each other, forehead against forehead. Quiet. A comfortable silence as we stand there in a perfect bliss.
Then he looks up into my eyes, his lips forming the words I thought I'd never hear.
"I love you."
Tears well up in my eyes, and before I can stop them, they fall. Like rain, tears streak my face. Pure, innocent, and filled with joy. I smile so big my mouth hurts.
When I don't say anything he turns away, blushing red.
I grab his arm. "Hey." He looks back at me. "I love you, too."
His famous, lopsided grin is big as his arms wrap around my waist once again.
I nestle in his arms and repeat it once again to myself.
"I love you."
And it feels like a never fading light has entered my world.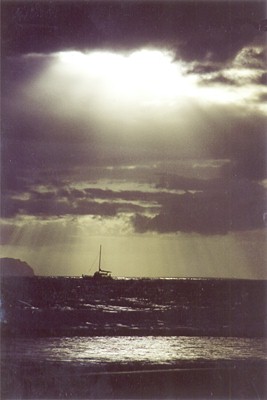 © lily H., Kekaha, HI