Be careful of what you wish
October 2, 2009
It was the first day of the second semester when I first saw her. The most beautiful girl I have ever had the pleasure of seeing was sitting right next to me. What a lucky day.
I found out that she was new at our school. I couldn't help but keep looking over at her. Her long black hair and olive skin tone made me want to get to know her. I wanted to know everything about this mysterious new girl.
When the bell rang she was waiting at the door. Her perfect face was smiling at every student that passed by. When her blue eyes rested on me, she walked over to me and said "I noticed you looking at me. I bet you don't even know my name"
I stood there for a minute not knowing what to say. My mouth closed and opened a couple of times before I finally said "I want to know you. I want to know everything about you. Your life, what you do, where you came from. Just everything."
She just smiled at me and said the six words I will never forget "Be careful of what you wish"
I watched her walk down the hall. I must have stood there for ages wondering what she meant, This girl had caught my attention in just one conversation. How could someone do that?
As soon as I got home I went to my room and just sat there. Remembering her perfect beautiful face. The sound of her voice. The way her smile brightened up the hall way. What was it about this girl? Why could I not stop thinking about her?
The next day I hurried to class hoping to see her. Maybe today she would tell me what she meant.
As soon as I walked into class I could see her smiling at me. Her beautiful face took my breath away. This feeling was amazing.
I walked slowly to my desk. I found a small note placed at the center. It had my name printed on the top. I sat down and unfolded it.
Ayden-
My name is Lovella. It means wolf.
I stared at the paper for a while before looking over to her. Lovella. What a unique name. What a unique girl.
After that day she began leaving notes on my desk everyday. I learned more and more things about her. I found out that she just moved from Illinois, she was very homesick, and she had a collection of horses, even though most people think it's childish.
Her favorite time of year was fall because it signaled new beginnings. Her favorite word was embrace because it sounded so warm, and her favorite color was black because it was a mixture of every color.
Over the next couple of weeks we began getting closer to each other. Every Friday night we would get together and watch an old movie or go out and just walk for hours. Those nights were the ones I enjoyed the most.
Even though I had feelings for her, I didn't want to tell her. She has been hurt a lot, and I don't want to add to that list. I just wanted to keep her happy. I longed to see her smile, and laugh.
One Friday night we decided to walk to the lake. It was a beautiful spring night, and everything seemed perfect. That night was the most memorable night of my life. Simply because I was with her.
We were walking together along the lake front when she suddenly stopped. I looked over and asked what was wrong. She looked at me with those beautiful blue eyes. I knew she wanted to say something, but she didn't have the words.
I gently took her hand and lead her to a small spot along some rocks. I again asked her what's wrong. She still wouldn't answer.
She looked out to the lake then back at me. She asked me what my wish was. I told her "I wish for you to be happy" She smiled at me then said "Be careful for what you wish."
As soon as she said that she got up and started walking. I didn't fallow her. I knew I would learn what she meant sometime soon. Or at least that is what I hoped.
That fallowing Monday I didn't get a note on my desk like usual. I looked over at her and she was smiling, so maybe she didn't want me to know anything else? I jus shrugged it off but I still wondered why she didn't leave me a note.
After the bell rang I waited for her. She smiled at me and handed me a note then walked off to her next class.
Like the first day she left me wondering. The same questions popped up in my head. How could someone capture my attention like that? What was it about this girl? Why could I not stop thinking about her?
Sighing I opened the letter and read…
Ayden-
I remember the first day we met, and how much you were puzzled by me. I imagine I am still a bit of a puzzle.
Last Friday I asked you what you wished and you said for me to be happy. The only way for me to be happy is for you to know one more thing about me. It's something I was afraid to tell you before. In truth I am still a little scared. I want to tell you…I love you.
Ever since that first day I have loved you. I didn't want to tell you yet, because it was a very dark secret. Until Friday I didn't know if I wanted to tell you.
I realize you might not love me. Telling you this is what made me happy. Even if you don't love me back, at least you now know.

-Lovella.
I stood there reading it over and over. Not believing it. She loved me. I said those were a couple of times before I decided I should hurry to class.
After the last bell rang I searched for her. I searched for her everywhere till I found her under a little oak tree. She was sitting there reading a book. Just stunning. That's all I could think.
I walked up to her slowly and called out her name. She got up slowly and started walking toward me. My heart was racing, and my palms were sweaty.
She stopped right in front of me. She whispered my name. All I could do was look into her eyes.
It felt like an eternity before I could work up the courage to say something.
"I love you. I love you more then anything." I said "You're perfect in every single way, and I would die without you. The first time we met I didn't know I would feel this way."
I could see tears in her eyes, as I pulled her close to me and kissed her softly. Then again harder. I didn't want to let go of her. I finally told her how I felt and I would never give her up.
A couple years after we graduated, I asked her to marry me. I told her I wanted to love her for eternity, I wanted her to never have to worry about anything. I would take care of her. She simply said, "Be careful of what you wish."
At our wedding I told her that I was always careful of what I wished, because the only thing I wanted was standing right in front of me. I remember her crying tears of joy as I said that.
Now we have a kid. Her name is Lilly Patterson. My wife is still as beautiful as she was. And we are as happy as ever.
To think it all started with 6 little words.

BE CAREFUL OF WHAT YOU WISH!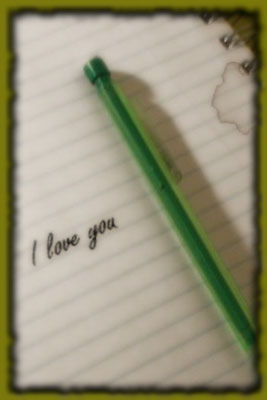 © Rebecca B., Marietta, GA