Breathe
October 3, 2009
I could never trust her enough to leave her alone with all that sadness in her. Even though we got rid of all the knives and such in both her house and mine, I still picture her cutting into her wrists to release some satisfaction I found sickening.

"You don't understand," she whispered, "Its like when the blood is set free, I can breathe whole. My lungs can actually fill all the way with air, and when I exhale, all the sadness is released."

I put my hands around her wrists, shielding them from her. "You could work on breathing exercises, you don't need to harm yourself just to breathe."

She smiled and kissed my cheek. "You wouldn't understand, Cephas, you haven't felt pain like I have."

"I never wish to," I replied, "And I wish I could take yours away as well."

She smiled at me, but it was bleak. I wanted so much for it to touch her eyes like it use to when we were both happy and didn't have to bare such sadness.

I released her wrists and walked away from her, to the window.

"Have I said something?" She whispered.

I closed my eyes. Yes.

"No, Addie."

I heard her stand up, and then the door shut and I was left alone in my room that held so many memories of her when she no longer cried for her father.

Later that night I fell asleep in my bed without her for once. She always had horrible nightmares, even before her father had died. She always had the most violent and terrifying dreams that I couldn't even comprehend.

I heard her tap on my window.

It scared me the first time she ran to me, but I was use to this by now. I opened the window, and like a routine she was in my arms. I pulled off her jacket and led her to the bed. She always slept on the side that was pushed up against the wall because it made her feel secure. I tucked her in the blankets and in moments she was asleep.

I smiled bleakly. I would take her away from all of this, I thought, she won't have to deal with this pain any longer.

I kissed the engagement ring on her finger. We graduated last month, and I purposed to her right when she got off the stage, like I promised. And of course she cried, I was use to that, but this time the tears were for her overwhelming happiness.

She had all the wedding plans in a small white notebook with clips of magazines poking out the ends.

Once she handed me a picture of a wedding gown and asked what I thought of it.

"Isn't it bad luck for me to see the dress before the wedding?" I asked.

She laughed, "You know I don't believe in luck."

I shook my head and said that I liked it, which wasn't enough to her, she wanted to look beautiful. And then I had told her that I wouldn't mind if she walked down the aisle in jeans and a t-shirt.

She rolled onto her side, so she was facing me and put her arms around me like I was a teddy bear or something of that nature.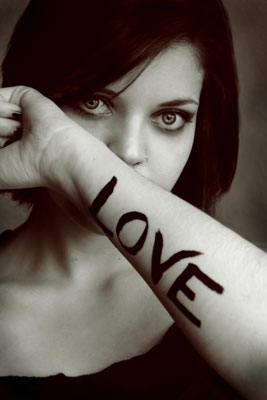 © Michelle B., Blairsville, GA