Sleeping Beauty (Part 2)
November 26, 2009
He wondered sometimes, how many people knew. How many knew that Jenna, the girl who wore baggy cargo pants, chains, and black t-shirts with band logos that no body had ever heard of, how many people knew what she was really like inside. He wondered if anyone knew that the girl who drove to school in the beat up Volvo with black painted nails gripping the steering wheel, with heavy metal music streaming from open windows, was different inside. That she wore gray leotards with tights and pirouetted to classical music. He wondered if anyone knew that Jenna, the girl who sat next to him in AP Calc, the harsh one who cursed and wore too much eye liner, was really a soft, fragile, breakable person. He thought he might be the only one. The only one who would watch her at night throw down her black bag of heavy textbooks, discard her gothic clothing, and dress herself in gray. And dance. And oh, how she danced. He never tired of watching her. Her existence was part of his day-to-day life.
Did she know he existed?
He thought it might be time to go home. Start those neglected physics problems, study for the American History test. Maybe play a little guitar. Call Gabe on the phone. Eat something. But tonight, he was stuck in this moment in time. The warm light was haunting to him as he stood in the cold frigid air. He could feel that snow was coming, the same way he could feel when most things were about to happen. He watched the first snowflake fall ever so softly from the tip of the moon. He knew, that the moment he reached out his hand to catch it, its perfection would melt into cold water in his open palm.

He returned again and again. Her dancing was just as meticulous, just as perfect, yet nowadays there was a desperate tinge to her movements, as if time was running short. She looked as if she was drowning in this bathtub of time, with all the water twirling faster and faster into the holes of the drain. And she was holding on for dear life. He didn't know what was coming for her past this draining of time. He knew what was coming for him. Maybe college, then some business career. He would come home from the office every day, weary and exhausted. The lines on his foreheads would increase till there were too many to count. A wife, perhaps. Some kids that looked a little like him. He would go out to eat once a week with the wife, at the cheap Mexican place down the street. He would tuck the kids into bed and read them stories about imaginary places. He would fight with the wife. Maybe her name would be Maria, or Karen. Maria would fight back. He would punish his kids. He would love them. They would take family vacations to far off places and pretend to be happy. He knew how it would go for him. From laughing with youth to a never-ending drowning in the drudgery of time. But he wondered about her. Would she go on to become a famous dancer? Marry someone rich and live in New York? Stay single and travel the world in a dance troupe? He didn't know. He watched her now, watched the way she darted more carefully across the shiny floor. Each version of her, in every mirror, was scared of something, scarred with something, and he knew not what. Her movements became faster and faster, more and more urgent, till she was a blur, a shape darting through space, moving at the speed of light. His eyes could not watch. Faster and faster and faster she moved, so far out of reach. And then, for a moment the world stopped, as she cascaded down down down to the floor, like a leaf on a lonely fall night.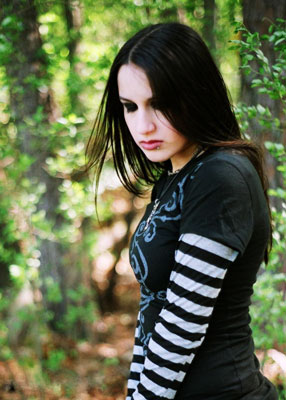 © Rebecca B., Marietta, GA