Love is a Rose
December 9, 2009
You never loved me. I brood silently, twisting the blood red heart around my finger. Love was a difficult thing. I gave you the love you never did deserve. Then you turn around and puncture my heart. Your claws dug into skin, pulling me deeper into that dark abyss.
I can feel myself lowering onto the yellowing ground not caring about my newly bought dress. A tear crawls into the corner of my eye as I watch the looming building in front of me. The sky is darkening, turning a ghostly shade of purple.
Why did you lead me on so? I gave you everything; yet you shoved it all down my throat.
A shrill sound interrupts my thoughts. Sighing gruffly, I shift my gaze to the opening doors of the classroom. Seas of students jumble around trying to get home for the day. My dark eyes train in on an electric blue baseball cap dodging through the people.
Looking down I recalled the flower in my bag. I ease it out, careful not to disturb the fragile petals. I sit it in my lap, toying with the withered stem. A stab of pain shot up my finger and I cry out in anguish. Black liquid tricked down my hand, glistening in the moonlight.
One of the thorns was shining with the same sticky substance and I tighten my lips into a line. I stay silent as the sound of footsteps near. A pair of weathered Nike's rested beside me as if waiting for me to get out of the way.
"What are you doing here?" A familiar husky voice broke the silence around me. I look up at your darkened figure; even in the moonlight I could make out your long brown hair shadowing your gorgeous green eyes. I put my hands on either side of my body and heave myself up.
"Thinking," I murmur turning away. You grab hold of my wrist and turn me around to face you.
"About…," you prod.
I look at your angelic face once more and feel the corners of my mouth tug up in a sad smile.
"Love is like a rose. It is very pretty on the inside and out. You just need to watch out for the thorns," I quote and drop the wilting flower.
A gust of wind blows by, swirling my cinnamon colored hairs around my cheeks. It catches the rose in mid fall and tears off the petals one by one. Still smiling, I turn and walk away from your outstretched hands. My vision blurred and salty streaks lined my cheeks. I choke back a sob and try to ignore you. But I couldn't. Love can do that to a person; except your kind of love never feels good.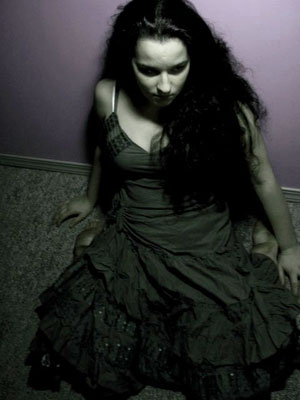 © Brianna D., Everson, WA