Why her?
December 23, 2009
I sit here and wonder why. Why Ryan flirts with my friend and myself.
" Hey what you doin?"
" Oh, nothing. Just thinking."
" What are you thinking about."
Great. What was I suppose to tell him. ' Can't you just make up your mind and choose me or Lidia.' No I couldn't do that. We were too much of friends and everyone knew who he would choose.
" Just thinking about that new mall they are going to be building. I hope a Hot Topic will be in it."
" Right. Um, I need to ask you a question."
" Go ahead." Did he change his mind? Did he finally see that I've been crushing on him since 8th grade, when he joined our class.
" Well I was wondering if you think Lidia will go out with me? You know, we are good friends. Do you think she'll want to go deeper into our relationship?"
I looked into his deep blue eyes. I could feel tears starting to form in my eyes.
" I think you have a great chance. She really like you."
" Really? Great. Hey you won't say anything, right?"
" Of course not. I'll let it be a surprise." I couldn't take it anymore. I jumped up and ran out the door.
" Andy, wait!" But I couldn't. I ran to my car and drove home.

_____*_____

Lidia called to ask if I was ok. I told my mom to tell her I was sleeping and I would see her at school tomorrow.
" Are you ok?" Andrew asked. He seemed worried.
Andrew was my older brother's best friend. He was taking a shower real quick, so when he's gone andrew usually talks to me.
" Yeah. I'm good. You know how boys are. Ha."
" Yup. They are so lame."
" Ha. Are you calling yourself lame?"
" No. Just other boys."
" Yeah."
Silence. It got quiet. It was a relaxing quiet, though. Not one of those akward ones.
" You know Andy, you can come with me and Jake to the party. I'm sure there will be people you age."
" Really?"
" Yeah."
Jake drove, Andrew sat in front, and I was stuck in the back with Jake's freaky girlfriend.
" Andy, honey, don't waste your time on Ryan. I see him out a lot getting into trouble. You don't need that kind of influence on you." Jake was so sweet. I'm glad we were only 1 year apart.
" Thanks, bro."
" You'll see. You'll meet a lot of guys tonight."
" Does mom know I'm out?"
" Umm, we just won't tell her!"

_____*______

The party was a hit. I meet this guy named Jared and he asked me out. I felt wierd because Andrew was next to me, trying to keep me company. I saw an emotion cross his eyes. I said no. Jared was sort of upset, but within an hour he found someone else to hit on.
" Why didn't you take his offer, Andy?" Why were we going to have this conversation?
" I don't know. I guess I still want Ryan."
" Oh."
" Andrew..."
" Hey, I have to go home. Passed my curfew. I'll talk to you later."
Great. Andrew hated me. Ryan thought I was wierd. Jared thinks I'm a freak. At least my brother doesn't think anything.

_______*_______

I woke up thinking I'm not going to let Ryan bug me today.

" Hey, Andy!" Never mind. I can't ignore him. He has the best smile, they best blue eyes, and the best brown long, mohock looking hair.
" Hey."
" What happened yesturday?"
" No...." I froze. I couldn't take my eyes off of him. His fingers intwined with Lidia's. She say me looking and blushed.
" Andy! Ryan asked my out last night! Isn't that great!?"
" Super!" Only it wasn't. We both knew we both had a crush on him. We said whoever he choose got him and we couldn't fight. I put on my best smile yet. I mean, I was happy for her and all, but I just wanted to know why. Why her and not me.
" Well I'll see you guys later. I have to go to class." I hurried down the hall out of sight. I looked back at them leaning in for a kiss when I suddenly fell on the ground.
" Holy CRAP! Watch were you are going dumb ass!" I looked up to see who had slamed into me, when I saw it was Andrew.
" Oh, sorry."
" Fisty little one. Andy, are you ok?" He grabed my hand and helped me up.
" Sorry."
" It's ok." I looked up at him to see if it was alright. When our eyes meet I saw that he was really cute. Not really cute, but almost hot.
I moved forward and kissed him on the lips. Then he kissed me back. At the corner of my eye I saw Jake staring at us with his mouth open wide.
" Uh-oh!" I remarked.
I ran to Jake, but he just embraced me with a big hug.
" I told you there was a good guy out there for you. I mean I am very angery at you."
" I am, too."
" Don't be too harsh on yourself Andy. You found the guy you wanted and don't let anyone take him away."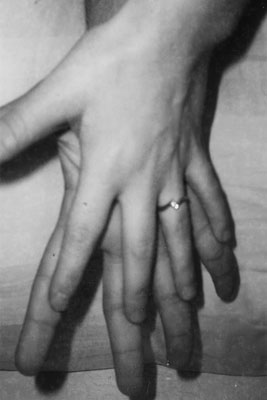 © Heather H., Phoenix, AZ