This Isn't Our Fairytale
January 29, 2010
And then, there he was. Standing in the rain. It was as if he had appeared out of nowhere... A ghost indeed, bringing back memories -- some good, some bad. But the past didn't seem to matter anymore. The only thing that mattered was here and now. And now, he was standing maybe ten feet from where I stood, soaked. He looked confused, scared, and possibly happy. But most of all, he looked hurt, and, of course, he had every right to be. I knew; I'd caused the pain. 

But I had been in pain, too. Agonizing, gut-wrenching pain. Pain that went so deep I felt as if it were the very element anchoring me to the cold, wet, ground. As if I couldn't go to him, like I had wanted to so badly and had longed to do since I'd last said goodbye. 

Here he was. Once again. And I couldn't move, couldn't take that first step. 

But I didn't have to take the first step because he did. He moved his newly tanned leg forward, but he did it as if the very action would cost him his soul. Like it weighed him down. 

I knew he wasn't sure; I should have taken the next step to show him I wanted him. Yes, I was willing to do whatever it took to be with him. I was ready to forget the past and move on. I had grown up. I had changed. 

But again, I didn't have to take the next step because he did and continued until he was about halfway to me before stopping.

I could feel my pain lighten slightly. Seeing him almost made it all dissapear. I could have cried. It was unbelievable to see this face I'd come to know better than my own and, then, had tried so hard to forget completely.

Even though I no longer felt as if I was stuck where I was, I found myself unmoving, studying his face in curiosity, wondering what he'd done with his life all this time or if he had changed at all. 

I wanted to touch him, to be with him, so badly that it hurt...but not in the way it had hurt for so long now. There was a new hurt replacing the old. But the longer I stood there, I realized this hurt was not new at all. I had felt this before, and I had only ever felt this way for him. I liked this hurt. I had missed this hurt. It was more intense now, as if it had been waiting in the shadows of another pain. Waiting to shine. 

Despite everything, I smiled. Maybe for him, maybe for me, maybe for the time that had passed. No, this smile was for my hurt...

The very hurt that pushed me forward. One step, two. And then, I was running. I ran the short distance between us and took a great chance. I jumped into his arms, making him stumble a bit but still holding onto me. He seemed suprised that I would do such a thing. And maybe that's why I did it -- to show him I had changed. 

He held tight, with longing and passion and possibly fear. Yes, fear...that I'd leave again? That I didn't want this as much as he did? I didn't want him to be scared. I wanted to show him that I wanted him. 

I could feel the want in his hands, one on my thigh, the other on my waist. His whole arm was around my body, pulling me closer. 

I tangled one hand in his wet hair, and I pulled his face close. My other hand was on his shoulder, my arm around his neck, holding tightly. I was trying to say "I want you, I need you, don't go." 

This is what I'd wanted for so long now. This is what I'd given up on. To be able to look into his perfect green eyes and find his mouth with mine. To have him hold me in that special way that made me think I was worth something. And almost made me think love could be real, could last forever, could be us. 

And when he held me that way, I completely lost track of reality. I'd forgotten my surroundings while we were kissing. 

In fact, I'd lost everything except the two of us. 

At first, he had kissed me roughly. And I'd been just as rough about it. Our lips were pressing against each other's with pressure... As if we could squeeze all of our longing into just two seconds. And maybe kill the pain just as fast. 

But somewhere, in the midst of the longing, maybe he realized we had more time -- and maybe he was right
-- and he slowly started to kiss me slower, softer. I could practically hear what he was thinking... 

This was his fairytale. I was his Cinderella. He was my Prince Charming. And we had no limits. Midnight was only the beginning of our forever. Because he already knew the shoe fit... 

I pulled back a little and studied his face. He seemed upset that I had stopped. But when I opened my mouth, joy became of his entire being.

"This isn't your fairytale," I told him. 

"No," he said, "it's OUR fairytale." 

"And if I don't believe in fairytales?" I asked. 

He put a finger to my lips and whispered, "And they lived happily ever after." 

Before I could protest, we were falling backwards. Onto the wet grass. 

And it didn't even matter that I was soaking wet. 

The only thing that mattered was that he was there. I'd been waiting to believe in a fairytale, wanting a prince to catch me, wanting to be proven wrong. But he hadn't caught me. He'd fallen with me because he'd been there all along after all. 

"No." I said. 

"No?" he raised his eyebrows quizzically. 

"Not 'and they lived happily ever after.'" I argued. 

"Okay, but I'll make you believe one day. Just --" 

It was my turn to shush him. "Not 'and they lived happily ever after.'" I repeated myself. "It's just beginning. It's 'Once upon a time...'" 

The smile that spread across his face almost made me believe myself. And just for a second, I caught a glimpse of forever.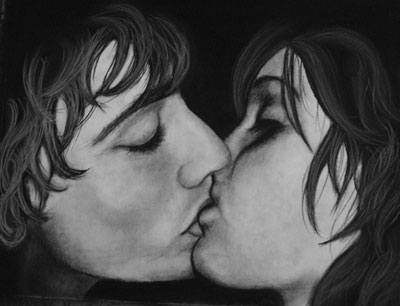 © Anna Y., St. Robert, MO