Hollywooder: Part Two
February 9, 2010
"Owen, come back here, now!" Camila shrieked angrily as I walked away and a million cameras flashed on my face. Camila, a rich, award-winning actress was asking me to come back, but I didn't care— I didn't care about her or the tabloid magazines that would be talking about me later, I just wanted to get away from her and the red carpet below my feet.

"Owen! Owen!" I heard a million voices scream after me as I got on my limo and asked, Mark, the chuffer to take me somewhere else, anywhere, but fast.

The tires screeched, sliding over the pavement, as Mark maneuvered a fast u-turn. I looked back through the tinted rear window and saw Camila, with her mouth dropped open and a thousand nosy eyes set on her, staring at the limo as it drove away.

"Is everything alright, sir?" Mark asked me, looking at me through the rearview mirror.
I looked up at him. "No." I said sincerely.

Camila, was pretty, famous, but, overall, a b***h. I hated her, despised her, and thought she was the most annoying girl that had ever put a stepped on the planet, the complete opposite of Collie, the most perfect way to "forget" her and the engagement ring on her finger. It had only been a week since I had come back to L.A. and Camila and I were already in the front cover of every magazine.

For a week I had put up with her stupid giggly laugh whenever someone asked us about our relationship, I had put up with the cheesy pet names she had given me, I had put up with all her nonsense and stupidity, but, now, she had taken it too far.

"So, tell us, how did you two, guys, meet?" Jenny Barker, a blonde, superficial interviewer asked, stopping us as we made our way through the red carpet. She held her pen over her notepad, ready to jot down whatever we said and, maybe, twist it a little bit.

"Well," Camila said batting her fake eyelashes and fluttering her sleek brown hair with her hand.

"We met at an after-party." I interrupted and started walking away, but she didn't move.
"When we met, Owen was all, like, depressed." She went on, making a dramatic emphasis on the word depressed. "I basically saved him from falling into chronic sadness, just because this girl cheated on him and then, like, told him she was getting married. What a b***h, right?"

Jenny Barker was already nodding enthusiastically when I walked away.

Now, sitting in the darkness and silence of the limousine, I thought of Collie: her sweet laughter and her sparkly blue eyes. I looked up at the few stars on the black sky and wished I could go back in time; I wished there could be at least something, just one thing I could do to get her back.

"Sorry to intrude, sir,—Mark said breaking the silence— but may I just remind you are still top three on the radio listings?"

I blinked feeling confused. I did not know what he meant. Why was he talking about ratings when the last thing I wanted to talk about was music? Suddenly, though, it struck me. Yes, I could still do something to fix it.

"Mark, — I sat up straight, feeling a rush of excitement running through my body—take a left here. We are going to the recording studio."

He nodded and turned left, hiding an astute smile.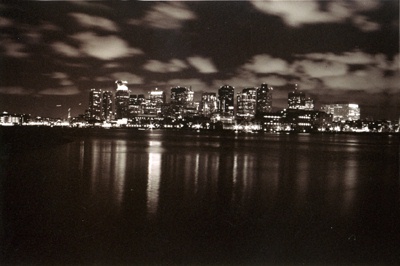 © Hoang P., Rochester, NY