For Always
March 2, 2010
Hi. My name is Annie Jones. To begin with, I thought I'd just share a little bit about muself.I'm 17 years old and live in Tennessee. I enjoy spending time with my family,hunting, fishing and being with the ones close to me. I live with my step- dad, mother, and little brother. I go over to my Daddy's every other weekend and spend time with him, Christian,Alexandria(Alex). I go over as much as possible for one reason alone.... I'm in love...
********************************
It all started 16 years ago. Mama and Daddy got divorced.Mama carried 2 years after the divorce was final to my step-loser Adam.Daddy stayed with my grandmother, but I'll spare you the details.
***********************************
I was 12 years old when I first became a romantic. I loved the mushy books, and my favorite movie was Titanic.I went over to my cousin Lyndon's one night after she got home from the pool hall.I was wore out after cooking for Daddy and the twins, and just wanted peace and quiet. Lyndon's married to Charlie. Charlie has two kids of his own: Randy and Bertha.
***********************************
When we were kids, Randy ALWAYS took possessiveness over me.If I got hurt, he was the first one there. If I needed a shoulder to cry on, all I had to do was call.Anything I needed/wanted, I got...From Randy.
***********************************
On the night of January 25, all of that changed our realtionship.FOREVER.
***********************************
I had just came in and laid down on the couch to wat a little television.I was almost alseep when I heard my name and a hand stroke my back and hair. It was Randy. Someone(who I couldn't make out) was sprawled out on the love sea, and Randy wanted to sit down and watch the movie with me.I opened my eyes a little as Randy genly picked up my head from the cushion I was laying on,sat down, and alid my head back into his lap saying,

"Go back to sleep, Honey. I just want to watch you look more peaceful than I ever have.."

Randy ALWAYS called my 'Honey.' I call(ed) him 'Baby.'It's our childhood nicknames. This was at about 10:00.
***********************************
I couldn't go back to sleep no matter how hard I tried. I kept my head down, but Itruned over to watch Titanic,my head still in his lap.

Randy said to me, "Why don't you to back to sleep?"

I replied," You know once I get woke up that I can't ever go back to sleep. Besides, I wasn't asleep yet andyways."

He only smiled his sick haha, very funny, but true smile and looked back at the t.v. screen to see Leo DiCaprio and Kate Winslet meet for the first time.We watched the movie for maybe 10 minutes, and my stomach began to rumble. Randy looked at me and said,

"Did you eat supper??"

"No."

"No? What did you cook, Honey??"

"Stir fry" I answered, waiting to hear him get me for cooking something I hate.

"Well c'mon. I'll fry you some chicken and scrumage up some cake for you. I still don't see why you insist on cooking things you hate."

Randy knew all the right spots.
We went into the kitchen and I sat down at the stool. He becan warming oil and heating the oven.German Chocolate Cake with cream cheese frosting.My Favorite!!! Randy;s always been a wonderful cook.When I'm depressed, Randy'll cook my favorite meal: German Chocolate cake with cream cheese frosting, shells and cheese, and fried chicken.That's exactly what I ate that night. He must've felt like cooking, because I felt fine.
***********************************
I finsished my wonderfully cooked meal and we went back into the living room to see Leo getting himself stuck in the broiler room. Glen,his brother (adopted) was on the couch, so we cuddled up on the love seat as we'd do on nights like this when we were both tired and only one place to lay.
I finally got back to sleep. I awoke abruptly no too long after I closed my eyes.I'd had a nightmare baout us being seperated and never finding each other again.He was my BFF!!! Not even in my dreams was I going to let that happem.He was startled when I jumped up with tears streaming down my face.

"What's wrong,Honey?? You scared the holy crap outta me!"

I told him the whole situation.

"Baby Girl, don't worry about all that.I'm right here. That's NEVER going to happen, not if I have anything to do with it!!Baby, close your eyes and dream some more. I'm right here. Nothing's gonna happen to us!!"

After that dream, no matter how hard I tried, I couldn't rest any more.He saw I was restless. I'd always loved him, and I didn't know what to do.After about 20 minutes of tossing and turning, I gave up.I looked into those green eyes and said to him,

"Randy, I love you. You're always there and-"

He cut me off right there with a long, tender loving kiss. Our lips detatched and I realized I had tears streaming down my face.

He siad to me, "I love you Angela Denise Jones!!! I always have,but you didn't give me the chance until now. You're my life.If anything were to happen to you, I'd kill someone or even myself."

I didn't know what to sya. I whispered one question loud enough for his ears only.

"For always?"

"Yes."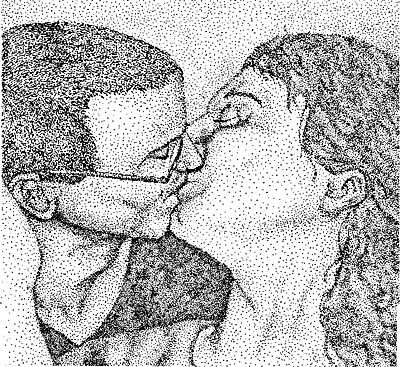 © Amanda H., Rogers, MN