For Always...cont...
March 3, 2010
Me and Randy are older now, and all is well. We still go out ever night and cuddle on the couch.Since I haven't shared the latest news with you, listen to what I have to say.
***********************************
Exactly a year ago today,Randy and I became engaged.The date was January 25, 2009.I was 17 years old.I had just recently told my mohter, brother, and Adam(my step-loser) that me and Randy had been together for five years.
My baby brother didn't say anything, and Mama was speechless.She couldn't believe it.After she finally got over her silent spell, all she could say was,"No." I kept telling them that,no matter what,I was going to be with Randy.
It turned out that I cannot have any relation with any of them.That doesn't keep Josh from talking to me,though.If Mama were to find out,then he would get his phone taken away,and my step loser would beat him to a pulp.So,Josh texts and calls me on other peoples' phones and never on his.
***********************************
When I told Daddy about me and Randy,I couldn't tell him alone.Randy and I pulled up into the front yard together, and Daddy came out onto the porched looking ill tempered.I only smiled and said, "Hey,Daddy!" He never liked Randy, so I was ready to break up a fight.Daddy's guns were up on the attic at Lyndon's house where he kept them since he'd been on probation, so I didn't have to worry about anyone getting shot.
We went into the houes where the kids were playing.Daddy told the kids to go outside adn play while we talked.After Alex and Christian were out of earshot,I told Daddy,

"I have a confession to make, but you have to promise to act like a mature adult and not throw things out of proportion."

"What is it,Annie," he replied bull-headedly.

I slowly grabbed Randy's hand and laced my fingers through his.I looked into Daddy's eyes and felt relief as I said to him,

"Me and Randy have been together for the past five years.We love each other, Daddy, and there is nothing(puting emphasis on 'nothing') that can change that."
He stayed silent for a while, and I kept rambling,

"You're going to ahve to get over the fact dthat you don't like Randy.I don't want our relationship to change.Me and Randy's going to be together.I want you in our wedding.We aren't engaged yet, but that doesn't mean we won't ever be.I love you,Daddy,but life doesn't give you problems for you to skip out on.This is definately a lemon in your life, but make lemonade.No matter what happens,I'll alwys be you daughter,and you have to love me for that,if nothing else."

Daddy didn't say anything for a long time.Randy decided to help out by saying,

"She's alweays yours.I love her withall I have, but I'll not know what you feel for her until I have kids of my own.Hopefully with her."

Daddy's eyes looked serene.Randy proceeded to say,

"Mike, she's yours.She's been through a lot, and I've been there with her through it all.When she couldn't talk to you about something, I'm the first one she ran to. There've been many times when she came to me because she didn't think you needed to know. I've got her, and I'm not letting her go! God gave us two of everything except for a heart. The other, he gave to someone else for us to find.We've found our hearts. She has mine wrapped around her pinky finger three and four times."

I replied to Randy just as soon as he gave me the chance,
"I love him,Daddy. I wish you'd accept that."

Daddy finally said something low and rough.
"Denise, I'll accept it, but you've always been my little girl.Randy, I haven't ever like you because I've seen the way she looks at you. I only hope you have more in store for my daughter than I've been able to give her."

I was in tears by now,and we all stood up slowly. I walked around the oak table where we had been sitting and threw my arms around my father's neck and hugged him harder than I ever have.
***********************************
Randy and I finally get to my silver Pontiac. Randy opened the passenger door for me. I just stood there staring at the ground. I slowly looked up into his deep green eyes, and he brushed the tears away with the rough pad of his thumb.

He said to me right there and then, with my daddy sitting on the front porch and the kids playing on the swingset....

"I love you.I want to spend the rest of my life with you.Honey, like I said in there, you are my life.I'd do anything for you.Even kill. Be mine forever, and I'll be yours for as long as you want me to be, even eternity!!"

At that time, he got down on one knee infront of my car. My father now standing on the porch crying softly.

Randall Alexander Denali asked me those four little words.

"Will you marry me? I want always be there when you call my name. If ever you need food, shelter, want kids, and everything anyone can think of, I want to be there."

I replied, "Always will I be here. YES!!!! I'll stay with you. FOR ALWAYS!!!!!!!!!!!!!!!!"

He jumped up, grabbed me by my waist , and kissed me as softly and lovingly as he could. With excitement in his throat, he let go.Immediately with the biggest grin I have ever seen, whispered into my ear,

"Always."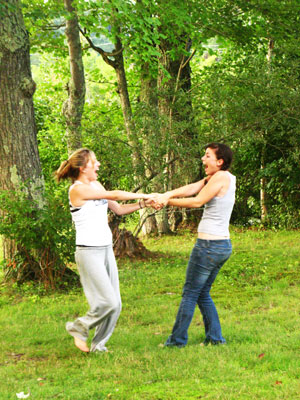 © Chantal C., Falls Church, VA