Teenage Love Story 4
February 28, 2010
. Guys. They can be so…..simple. But if they were so simple, wouldn't I be able to tell if Jonah thought I was cute, or if he was just showing the new girl around to be nice? I guess I was going to have to find out.
"Well, I want to go ride the Ferris wheel" Cammie declared, smiling sweetly at Jonah. Then to my disappointment, he smiled back. Though I felt as if my heart had been crushed, I did my best to keep a smile on my face. Suddenly I just wanted to go home. Jonah must have noticed the look on my face when he smiled back at Tara. He looked at me with soft eyes and smiled. A smile that I couldn't help but smile back to. Even if he didn't like me the way I wanted him to, just being around him was good enough for me. "Great, then we better start walking over there before the line gets even longer. We'll meet you guys at the hotdog stand after, okay?' Jonah said, looking at Caleb and John. They nodded and started heading in the other direction along with Steph. "I'm not hungry, so I'll just go with you guys", Tara said. As we started walking toward the Ferris wheel, I felt Jonah sort of drift back so he was walking right beside me. I could feel his jacket brushing against my arm, heat radiating off it. It made all the rest of my body feel warm inside. I had a feeling my cheeks were the color of cherrys right now. It seemed like the walk to the Ferris wheel was taking forever. Out of the corner of my eye, I saw Cammie slowly drift back to Jonahs other side. I could feel my blood boiling. At just that moment, we passed a crowd of people, making it impossible for all three of us to walk side by side at the same time. I took a deep breathe, told myself to let it go, and walked a few steps up to where Tara was standing. When she saw me she gave me a disgusted look and quickly looked the other way as if I weren't there. Or so she wished. How did my life get so filled with drama so fast? I asked myself. I felt like someone had just let the air out of my happy balloon. Still, I walked with my head high and shoulders broad. Its called self respect, I thought with a grin, or at least a half grin. Finally, we reached the line to the Ferris wheel, which was surprisingly short. I looked at Tara to see if she could possibly bare to sit with me for five minutes and was surprised to see that somewhere along the walk, she picked up two people. Talk about spaced out. There was a girl, who gave me a semi-smile, which wasn't too bad compared to the look on Tara's face. The guy beside her looked at me with friendly eyes, something I hadn't seen since Jonah talked to me. He smiled, his brown eyes sparkling. I smiled back warmly, glad to have someone actually welcome me. "Hi ,I'm Micah", he said with a surprisingly gentle voice. "And you are?"
"New", I said with a grin. "So I noticed", he said jokingly. " I meant what's your name?" I started to answer, but was cut off by Cammie(there's a shocker) who was having a hushed argument with Jonah. They stopped when we turned to stare, but I had a feeling they were talking about me. I strained my ears, trying to here what Cammie was now whispering to Jonah. "………nice to her, if you sit with me..."I heard her say in a persuading tone. I felt ticked off all over again. I didn't want her to be nice to me, she can hate for all I care. I just wanted Jonah. I must have had a look on my face, because Micah gave me a weird look. " Sorry", I said. He looked alarm. " Did I say something? Cause you don't have to tell me your name if its against your New Jersey rules or something. ", he said with a retreating smile. I laughed, surprising myself. It felt good though, like a weight being lifted. "No, its fine. My name is Skyler. I would tell you I'm from New Jersey, but looks like you already knew that", I said with a curious look on my face. He chuckled. "I heard Miss 'stick up her butt' telling Jenna about you.", he said gesturing to Tara." Here for the whole summer huh?" I shrugged and smiled. " Looks like it." " You don't sound to thrilled about it.", he said giving me a playful, sad puppy face. I laughed. " No, I'm glad, its just…" I glanced at Jonah talking to Cammie. "…I don't know" I said. "Ahhhh, I see what you mean. You've got the Jonah syndrome. A very common virus here in California." He nodded knowingly.I smiled for what seemed like the billionth time while talking to Micah. "Oh really?" I acted surprised, even though we both knew it was obvious that Jonah was practically irresistible. " Oh yes, I've seen it many many times before. In fact you could call me an expert on it", he said thoughtfully. I put my hand on my head in despair. I sighed loudly. "Oh, dear, I hope its not deadly! Is there, by any chance, a cure?" I took a flirtatious step towards him. ' Well I have seen one antidote that seems to work." He smiled, a devilish gleam in his eyes. I opened my eyes wide and gasped. "Huh! And what would that be?" He slowly put his arm around me." I'm really not supposed to tell but…..He leaned in and whispered in my ear. " It's a type of medicine called 'Micah-dote'. I hear it works like a charm." I laughed. Suddenly, I realized how quiet it seemed. Oh crap. I quickly took a step away from Micah and turned to see Tara, Jenna, Jonah, and Cammie staring at us. " Well, you sure work fast don't you?" Cammie said with a sneer. I rolled my eyes. I was sick or her crap. I looked at Jonah, but he was just staring blankly at the bench beside us. "Don't be jealous, Cammie. We all know your just mad at Skyler because she actually has a shot with Jonah, while you don't.", Micah said. I looked at him, surprised, then smiled. He gave me a reassuring glance. " Don't you agree Jonah?" he said, jokingly. Cammie obviously couldn't take it anymore. She turned and stormed off, Tara quickly doing the same. Jonah finally laughed. He looked at Micah shaking his head. "Man, you're gonna get your head bitten off." Micah pretended to brush it off. "Nah, she won't eat me. Too many calories." He smiled. "So are we gonna ride this wheel thingy or what?" He roped his arm through Jenna's. " See you guys", he said winking. I watched him and Jenna get on and smiled. We were next. I looked at Jonah. "So…I guess its just you and me.." He smiled back. "Ya." He gently took my hand and lead me to the gate. '"Next!", the ticket guy said. " That'd be us, thanks" Jonah said smiling. I almost screamed. He said 'us'. ?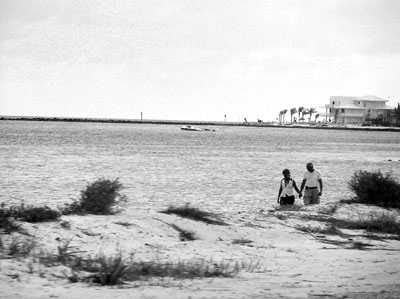 © Edgard B., Coral Springs, FL