Sloppy Joes
March 11, 2010
"Sami I think I… well I know… I want to be more than just friends," Jack says looking at me then turning is gaze back to the lake.
I couldn't take in his words. Jack was my brother's friend, and then we became close. That was all, but you have to admit I felt the same way. I always did, since that day: August15th my birthday. I was turning fifteen and I was crying how all my friends were kissing and doing stuff I only dreamed of. Yeah I was such a little crybaby.
Well I got home in our little country house. I saw that Jack was there he said my brother was upstairs. I looked at him; he smiled at me, in his teasing way. Jack was like another brother to me, since we've known each other since we were kids. He was just a year older than me.
"Looks like the little princess has been crying," he says. I sneered at him, and got a snack.
"Sami what happened, your little friends dump you?"
"Jack shut up okay." Then I looked at him, he gave me the look that I could always smile to. Then I just told him everything. "Every one is saying I have virgin lips or whatever. Whatever I have no idea why I'm telling you this."
"You haven't been kissed before?" he had asked in disbelief.
"Whatever Jack, just leave me alone, okay. Your just going to make me feel bad that I haven't been kissed yet by a guy," I had said tears starting to swell in my eyes. Then I looked at him. He actually looked sympathetic.
Then out of the blue his lips touched mine. They were soft on mine, like little marshmallows. Then I pulled away realizing what had just happened. Jack was my friend, I never thought about him that way in till now.
"Why did you do that? Now you just stole my first kiss away," I say my voice rising.
He shrugged confused, "I thought that's what you wanted, I'm sorry." Then my brother came down the stairs. Jack looked at me one more time, and then walked with my brother to the door.
"Thanks Jack," I whispered, I think he heard me, because he turned to me a smiling creeping up the corners of his mouth. Then that's when the sparks flew, coming in a little too late. I had feelings for that boy alright.
Now I turned to Jack, his emerald eyes shinning through the moonlight. His skin was so tan and smooth. I wanted to run my hand through his dark brown hair that he had grown out.
"Jack I'm with Ryan and you know that. I love him, he loves me," I say knowing the words aren't even true. He loves me, but I don't.
"Sami, come one, how can I believe that crap? You don't love him, and I told you guys are like sloppy joes, messy and sloppy. Always having fights and breaking up… Sami I'm in love with you, and I wanna—I wanna… be with you forever."
Then I kissed him, remembering the day we first kissed. Oh how I always wanted that memory to replay.
Then we took our clothes off, our swimsuits under them, and jumped into the lake. It was night I would never forget. We jumped from the rope hanging above the tree by the lake. Just like old times. And we talked, about everything. Then we just swam in the dark, looking at the beautiful country sky.
Then I swam closer to jack a big smile on my face, he smiled back, his cute boyish dimples popping out, his wet skin glistened.
"My mom is making sloppy joes tonight," I say laughing. He does that deep chuckle. "You know I cannot resist your moms cooking," he said.
"Ha I know." Then we walk out of the lake towards my house.
We pass my brothers little memorial on the side of the rode. My stomach always gets tight when I pass this.
"I miss him," I say in a quiet voice. He takes my hand, warmth all over my body.
"Me too, but we have to live our lives and celebrate his life," jack says.
"Yeah," I say.
Then we continue walking hand in hand.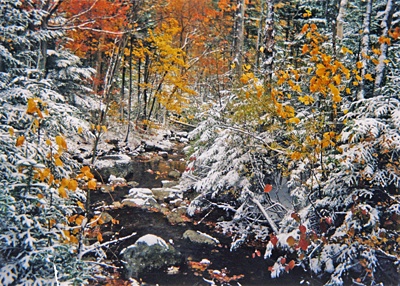 © Eric E., Lexington, MA