My Truth
March 18, 2010
Do I lie to myself? As I have done so often? To think that he loved me. No. I should not be so foolish as to think I ever mattered.
. . . But you . . . You, with your too-long brown hair, and laughing eyes. . . You I could love. I just can't seem to get you out of my mind. I sit sometimes, and think, listening to the roar of cars on the road and breathing in the smell of gasoline and cigarette smoke that hang like acid in the air. I can feel the grass beneath my feet and the wind through my hair, and I wonder. What did I ever do to deserve you? A broken little girl with no shoes running down the street and into your arms, tears pouring down her face . . . you will never know. Your hand slipping into mine, fingers twisted together, I hide my smile behind a curtain of hair and a mask of indifference . . . but you always see through it. Arms wrapping around my waist to pull me close, you tell me you love me, swear that I am beautiful. . . . I can almost believe you . . . Almost. . . . His kisses, like poison, still linger on my lips. The betrayal, the deceit . . . because of him, I cannot trust, I cannot believe. . . Because of him. . . I feel worthless.
So heal me if you can, mend my heart, and save my soul. . . . But I will never be the same. Can you handle me? My wingless Angel, with Forest Fire eyes so piercing they sear into my very soul, laying me bare. Can you love me? Lying in your arms let it all melt away. A dream, that's what you are. Nevertheless, I shall hold on to you. And if you are only that, then so be it, let me never wake. For I am drowning in your love, and baby, Death has never felt so good.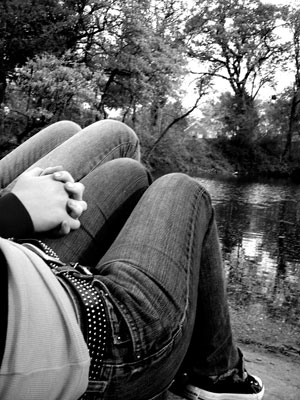 © Lauren R., Edmond, OK