Heaven is Hell
March 11, 2010
I see him across the hall, and all of heaven's wondrous joys pour down from the sky, swallowing me up, drowning me in intoxicating bliss. He smiles and laughs with his surrounding friends; the very sound of his magical chuckle causes shivers to trickle down my spine.
His eyes – the very eyes of heaven – wink in my direction. I know it isn't for me, but the pleasure still caresses my heart.
He walks toward me, his expression loving and warm, answering the very prayer I remain devoted to since childhood. The prayer of a far-off prince to enter my world someday, is finally coming true . . .
I feel his shoulder brush against mine, soft and strong, the touch of my dream-man. I close my eyes briefly, savoring the sense of his touch, until it passes. I reopen them, preparing to be amazed by his brilliant blue pools of paradise staring into mine.
Nothing. I turn around, and smile in relief to see him still near me. But his attention is elsewhere.
Here she comes, the Devil's seductress who prey upon sinners, smiling with a touch of smugness that tears at my insides. Her golden hair cascades down past her shoulders, wavy, irresistible to touch. As her hand joins his, flames of hell burst and surround us, seducing them, torturing me.
The cold blaze of jealous fire licks my sides, every particle of me screams for my departure, yet I cannot look away. Some terrible force holds me in a grip I cannot break, as if tree roots have sprung from the earth and entwined themselves round my ankles, ensnaring me on the spot. I am trapped.
Run , a voice screams inside my mind. Get away from them Run while you still got a chance The voice sounds strangely faint, like a wisp of mist clouding my mind's eye. How can I leave? Flames from my heart have burst from my chest and surround us, my feet will not move, and my eyes – my poor, yearning eyes – cannot close, cannot shut out the sight.
He whispers in her ear, tormenting the creature roaring in my chest. He encircles his strong arm about her perfect waist. Suddenly, my own waist feels wide, so dreadfully vast, and empty, for what is the point of a figure if no one can caress you? She laughs a twinkling giggle, scorching my ears. How I long to tear out her vocal chords so that perhaps he can hear my voice. But he is deaf to me, only her voice penetrates in his ears. A ferocious creature inside me is ravaging my internal organs, my temple is throbbing fit to burst, and my heart thunders in its cage, like a hamster in its wheel, spinning faster and faster, trying to get to the place it'll never reach . . .
Their lips meet.
Everything stops. Time is nonexistent, insignificant – all that matters is the picture of the kissing couple.
Gone are the flames; the knives arrive. They stab, cold-hearted and unforgiving, tearing at my muscles, organs, bones, and underneath the layers of skin. Tiny pricks tickle my eyeballs, causing salty tears to seep out.
The couple kiss once more, and, laughing happily, leave, hand-in-hand. I remain standing, but am torn to pieces, no longer complete.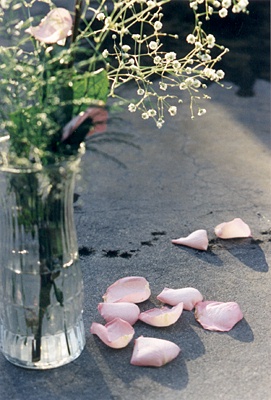 © Mary A., Fullerton, CA