Fantasy of Many, Reality of Few
March 13, 2010
It was cold in the cave, in spite of the fire burning. I watched the flames and again I was astounded by how alive they looked. The flames were like the smallest of people, who had but seconds to live. Caleb and I had already eaten what small dinner we could find, and now we were just trying to keep warm through the long night. I reconsidered again what we could do to bring some warmth back into our bodies. And then I knew the problem: We were sitting on opposite sides of the fire, opposite each other.

Wordlessly, I rose from where I was sitting on my not-too-warm blanket, picked it up, and stepped around the fire. I watched Caleb watching me, and I knew he couldn't understand what I was doing. I placed my blanket next to his and folded it up so that it was twice as thick. Caleb's expression was baffled. From his expression I could tell that he thought I was going crazy. As I looked him straight in the eye, I allowed myself a small smile. I settled on my blanket, facing the fire… and gently leaned against him, resting my head against his right shoulder. I felt instantly warm where our bodies touched. The touch sent tiny electrical shocks through my entire body, up to my head, and down to my toes. I felt warm enough that if I were to walk up the highest mountain there was in the middle of winter in a skirt and a short sleeved blouse, I would still be warm. It was not the kind of warmth that came to you when you were sitting next to a fire on a summer night, the kind of warmth that was just that: warmth. This was a warmth that was created by happiness,…maybe even love.

I felt Caleb hesitantly raise his arm, just a little. Then he stretched it out and gently lowered it. Now his arm was on my right shoulder, and I felt as though with Caleb's arms around me, I was completely safe from anything. His touch sent a fresh wave of sparks inside me. Sparks of love and care. I didn't resist his touch.

When he'd moved his arm around me, my head slipped onto his chest. I could hear his heart beating at least three times as loud as it should have. The heartbeats pierced the silence in my head like a bass drum. I glanced up at his face, and immediately the glance turned into a gaze; I found he was looking at me again in that love struck way of his, with a smile dancing, his beautiful brown eyes full of love and happiness. His eyes. They were almost topaz now, liquid topaz, and I found myself lost in them. I wondered vaguely if he saw the same expression in my eyes as I did in his. And then something miraculous happened: Caleb's eyes started to close and he leaned in slightly. Now his lips planted a kiss on my cheek, and that spot burned as if it was set on fire, but in a delightful way. And maybe it was. Maybe it was set on the fire that lived inside him to the end of eternity.

My head slipped onto his chest again, my face turned towards the fire. My eyes followed the flames, but what I really saw was an endless replay of what had just happened. And oddly enough all I did was just sit there, smiling, leaning against Caleb, my head resting against his chest. We were both staring at the flames, lost and baffled. I barely noticed when I slowly slipped off into sleep, but I was sure that when I did I was thinking about Caleb, his kiss still burning so wonderfully on my skin. And thinking that maybe I was wrong. Maybe true love does exist. And maybe I just found mine. In my dreams I was constantly smiling… because I was constantly with Caleb.


The next morning, when I woke up, both of Caleb's arms were around me, warming me, protecting me from any danger there might ever be in the world and all the stars above it. And then everything of the previous night came rushing back at me, ending with the baffling kiss. As I turned my head to look up at Caleb, I found my head still lay on his chest. His eyes were open, as though he was awake for quite some time now. And they were only looking at me. That was all he was doing. The small, disbelieving smile returned to my face, the same was mirrored on Caleb's angelic features.

"How long have you been bored out of your mind waiting for me to wake up?" I whispered, because that was all I could manage, a whisper.

"Only about an hour, but really it wasn't all that boring. You are too beautiful for that. And I'm glad I woke up before you," he whispered back, also smiling.

"And why would that be?"

"Because otherwise I would have missed you mumbling my name in your sleep," he said.

I felt my cheeks getting very hot, and much as I tried to push the embarrassment back down, I couldn't.

But all Caleb did was kiss me in the exact spot where I blushed. A warm, pleasant feeling filled me, purring with sheer joy and delight in my stomach, thudding in my chest.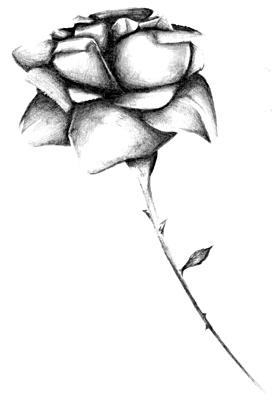 © Yisrawayl G., Philadelphia, PA