Realization
March 23, 2010
Looking into the ice blue eyes that I could barely see through his long, dirty blonde hair, I wondered what he was thinking. He was looking at me differently than he usually did.
I was sitting next to my very best friend, Ryan, on the bus home from school. We'd been best friends since late September, three months now. I trusted him more than almost anybody else. Now why was he looking at me like that, as though he was searching for some kind of answer?
"So how was class?" he asked me casually.
"Fine, thanks. But you know how clumsy I am. Last period, I cut my hand on my chair pretty bad. Only me." I smiled and shook my head at my own stupidity. I showed him the deep wound on my right hand. A look of genuine concern passed through his eyes, too quickly for me to really see it. He blinked at looked at me, smiling sadly.
"Only you, Cate, only you. We should get you a padded room. Maybe then you could go a couple of hours without injuring yourself. I can't protect you forever, you know." He laughed a little. He gently lifted my injured hand and looked at it carefully. His hands were cold, and he ran his finger so very softly over the cut. It felt kind of nice.
"It doesn't hurt when I do that, does it?" I saw that worried look again. This time it lingered.
"No, if feels good. Your hands are always so cold." I answered.
"Are you implying that I'm cold hearted?!" he joked.
"No, just saying that it comes in handy at times like this." I smiled at him. He always knew how to make me smile. I seemed to have the same effect on him somehow.
"Then I'll just keep my cold hands on it until you find some ice for it." He smiled jokingly at me, but he still kept me hand gently cradled in his.
We sat quietly, but not awkwardly so, as it would be with anyone else but him. My best friend. Best friend...then why did I like the way he was holding my hand so much? His cold skin was so smooth and his touch was so gentle. He really cared about my comfort so much. I wanted to look over his face.
He was looking at my hand, softly stroking it, being careful to lighten his touch on my cut. His face was sad, as though that cut would end my life. His eyebrows furrowed when he looked at it. At that moment, his eyes met mine, and the realization hit me. I could see that he wanted more than friendship. The look dissapeared almost immediatly, but I definately saw it, and it made my heart flutter.
"What? Does it hurt?" he asked, worried.
"Not at all." I replied smiling.
It was time for him to get off the bus, and right before he left, he kissed my hand, then my cheek fleetingly. I had always loved him, if only as a best friend. But when I got home, my heart ached and I cried because I had never felt anything so strong, and it shocked me. I realized that I just couldn't wait to see him again. I was in love with my best friend.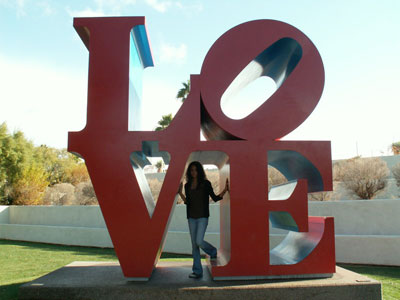 © Shannon E., Glendale, AZ