We Were Everything
April 2, 2010
The pictures were still there, ones we'd taken before everything went wrong. We were fourteen, standing on the sidewalk in-between our houses as Lisa snapped pictures of us. The first day of high school; everything changes in high school.
We were twelve, holding acoustic guitars and leaning against the giant tree in his backyard. He was supposed to be teaching me how to play, but I was too distracted by the camera. He was mad at me, because I wasn't putting my fingers on the right frets. We smiled for the flash, but I was mad at him because he was mad at me. There was no better reason to be mad at him; that's how things were.
We were thirteen, each others' dates for the seventh grade end-of-the-year dance. He was too embarrassed to put his arm around me, so I leaned as close to him as I could. His tie matched my dress, a knee-length, sky-blue name-brand that was still hanging in the back of my closet. I was taller than him then, because of my shoes. I still had those too, buried underneath all the shoes Janette had bought for me since then.
Three hours later, we were sitting on the bench planted on his front porch. His parents thought it would be adorable if we kissed, just for a picture to put in the family photo albums. Our cheeks turned the same shade of pink, and it took some prodding for us to agree. But we obliged, because we still listened to our parents then. Lisa wouldn't stop bubbling about what a perfect picture it was. He shrugged it off, his cheeks still the color of my siding. I never forgot how he kept holding my hand, even after Lisa and Jeremy had turned away.
We were fourteen, on the edge of the Verstecken High football field. It was back when he still played football for the freshman team, back when I was cheering with the amateurs. His parents wanted a picture of us—him in his football attire, me in my cheerleading uniform. He wasn't too embarrassed to have his arms around me then. We were stereotypical. We were perfect. We were everything.
He let me wear his helmet. I laughed, watching as he danced around and waved my pom-poms in circles. He'd grown that summer because of football camp; he didn't need high heels to tower over me. Our teammates snapped pictures. Our coaches shook their heads, hiding smiles. Our first party was after that game.
Everything changed after that. The pictures of us stopped. He quit football to focus on his music. I changed my hair and chose learning the rules over studying on his back porch. He said it would be better if we stopped trying to fall in love. He didn't believe me when I said I wasn't trying. He stopped sitting with us at lunch. They teased him for awhile, then got bored and found someone else to torture. We tried to be civil, but it was too hard.
I wrote Jeremy and Lisa nine goodbye letters that dissolved in the rain.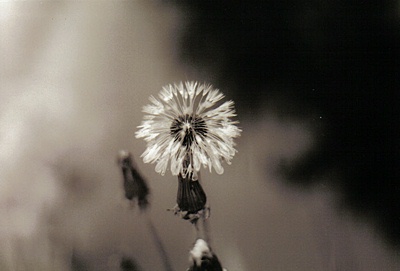 © Sarah S., Poland Spring, ME