Finally
April 9, 2010
His eyes were deep, cold and uninviting. He sat there just with a blank expression, but his eyes said it all. He was the type that was hard to figure out; he blocked everyone from seeing him. He didn't want anyone to get to him…especially her.

She was a sensitive soul. You could tell when she was in pain, when she's sad, and when she's happy He read her well. She was so soft and small. She loved to dream. Her dreams led her on to believe.

She wanted him, she believed in him. He didn't want to want her, well he did, but he didn't want to show it; he couldn't. He knew if he showed her his real feelings so many things would change, and it was too much for him.

He always thought of her. When he saw her in class or passing her, he always had her in his mind. No matter how hard he tried to push her away, thoughts of her would always come flooding back. His anger took the best of him when he's frustrated. His clenched fists and fiery eyes showed his frustration.

She also always thought of him. She would daydream…she wished he'd talk to her again, in her dreams he would forget everything and everyone around him and just be with her. Her smile shone like a million suns on a summer day.

She came back to reality. After school she saw him alone in the hall standing in front of her locker. Her heartbeat picked up.

"Hey" he said


"Hey" she replied and didn't meet his eyes.

"Can we talk?"

"Now you want to talk?" she chuckled.

"Look, I've been a jerk to you, but let's talk, and I'll explain…please?"

"Okay, talk to me." She started to open her locker and put her books away.

"Like I said I've been a jerk to you, I didn't want to push you away but things started happening, and I had to. I actually miss talking to you and hearing what you have to say. I'm not good at handling my emotions."

"I can tell, and what was happening that you had to push me away?"

He sighed, "I started to like you, but I didn't want to."

She didn't respond, she closed her locker and turned to him.

"You like me?" was all she could say.

"Yeah, but I can't deal with emotions well, and my friends are jerks so…"

"So that's the reason to treat me this way? Because your friends may question why you like me or how could you ever like her? Is that the worst they could do?"

"I know it's wrong, I'm sorry. Can you forgive me?"

"Yeah, possibly."

He took it for what it was worth. He wasn't sure what else to say, so he stepped forward and hugged her. He wanted to stay like that forever.

She was so overwhelmed with emotion. She never expected this from him.

"Well I got to go. Text me later." She smiled at him and stared to walk away.

"Wait…" he went running up to her.

"What?"

"I forgot something" He leaned down and kissed her sweet strawberry lips.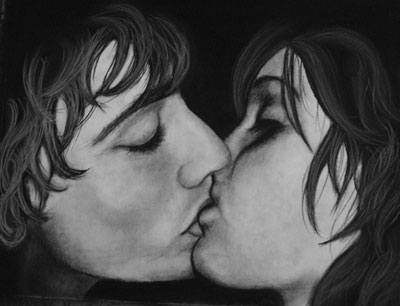 © Anna Y., St. Robert, MO