Freckles and Church
April 12, 2010
Mrs. Megan Dashwood. Megan Percy-Dashwood. Her notebook pages were covered in these types of phrases along with the millions of shaded hearts drawn by a delicate, artistic hand surrounding her dream of marrying, or at least being with the secret love of her life.
When she got a car for her sixteenth birthday from her parents, Megan's happiness soared. She purposefully hung a cross from her rear-view mirror, partly because she was Christian, but also because it matched Kole's car. She started attending his church every Sunday. She got a job in a small diner that he went to every Tuesday after basketball in the winter and baseball in the spring. Sure she needed the job. She didn't mind it. But she did it all for him. She only wished he would notice her. The shy girl who plays the alto sax in the school band.
It was Sunday morning in youth group, and Megan had "accidentally" ended up sitting next to Kole. She sat in her chair, picking at her short, bitten, plain nails nervously, perfectly aware of every movement the boy made. She frequently snuck glances of him out of the corner of her eye, taking in his…beauty. The toned body. Glowing, flawless, olive skin. Deep blue eyes. Short brown hair. He was breathtaking, really, completely unaware of the effect he had on every girl who had ever looked at him in their life. Megan, looking at one of the blonde beauties sitting across from her, wished she had worn her hair down for once, or maybe put some jewelry on. She refused to wear cakey makeup like the other girls all around her, but she felt plain, ugly almost, especially while sitting next to him, so close she could touch his arm.
When the teacher got done with the lesson early, Megan sat outside the sanctuary, waiting for the rest of the church members to get out. She was starting to casually look around for him when someone sat next to her, the heat from his body so close radiating towards her own.

~ * ~ * ~ *

Every time he looked at Megan Percy, his heart went on overdrive, his breath shortened, and he simply felt like he was going to have a nervous breakdown. All year, Kole had been secretly falling for the quiet band geek girl. He had soon figured out that they had all but one class together: she was smart. One point. Even though she was shy, when she did talk, whatever came out of her mouth in the form of a sentence was either intellectual or funny. Two points. And she was…beautiful. She didn't cake on the makeup like all the other spoiled, stuck-up brats at the school. She had a fun, quirky style of clothing she put on her lean body. Her strawberry-blonde hair was in a ponytail or high, messy bun every day, but it was the prettiest of colors. Her eyes were the lightest green he had ever seen, and the freckes on her nose and cheeks and the bright smile that adorned her face were adorable. Three, four, five, six, seven, eight points. More than any other girl he had ever dated.
Now, he sat next to her on the bench, conquering his fear of ever approaching the girl who made him sweat like a pig.
"Hey Megan," he said bravely, trying to mask the fear that was making his body tremble on the inside. She looked up with her large eyes and smiled sweetly.
"Hi Kole," she said in her soft, melodic voice.
Before he even had a chance to say anything else, the sanctuary doors opened and people starting piling out. She smiled at him, reached into the chest pocket of his collared shirt, entered in her cell number, and handed it back to him.
"Text me," she said, then walked out of the door into the bright, warm, beautiful sunshine.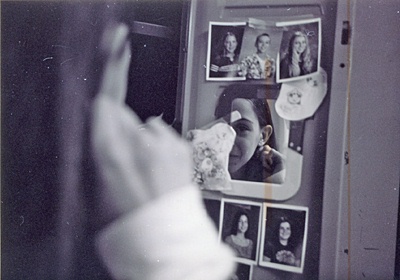 © Kaleigh W., Pompton Plains, NJ