Do you love me?
June 24, 2010
"I love you." he states over the phone, his rich angel's voice hesitant and tender. He can make it sound like anything.

Oh, you love me now? You shouted at me, called me an idiot, a b****. That was love? When you left me waiting in that fancy dress that I'd bought all for you, at that expensive restaurant I'd had to spend a fortune in gas on to reach—left me waiting there pathetically all night while you cavorted around with some other woman. You call that love? I confronted you—you struck me. I can still feel the flash of pain across my face though it is days later. So this is your idea of love.

"Do you love me?" he whispers brokenly. Did he just ask me that? Did that son of a b**** just ask me that? After all he's done, he has the nerve to ask me if I love him. I have the nerve to consider the question. My once-dreamy hazel eyes gaze through curling lashes at sights only I can see.

You, holding me in your strong, secure arms. Running your fingers through my dark, curly brown hair. Stroking my prominent, milky-white cheekbone. Whispering sweet secrets in my ear. Kissing my full red lips so gently and emotionally that my head swam for days. Do I love you?

"Yes," I said dully. "Yes I do." Wonderful. Did I really have to say that? Now he'll think I've forgiven him.

"Will you give me another chance?" he asks, full of apprehension. Give him another chance? Another chance to carefully mend my heart, only to rip it to shreds? He must be joking.

But who am I fooling? I know the monster that beautiful exterior conceals. I know the infidelity, the lies, the cruelty. And I love him. I love him, I miss him, I want to be with him.

I've always prided myself on being a sensible girl. Intelligent, logical, always making the right choice. Right now, my heart and mind were grappling for the right to make this oh-so-important choice. They fought as viciously as a pair of wild dogs, but in the end, I proved myself correct. The mind won out. Self-preservation won out. Love lost.

"No," I say curtly, and slam the phone down definitively, only to slowly slide down the wall until my head rests in my lap, salty drops splashing onto my crossed legs, sobs echoing throughout the desolate building. I made the right choice. I know I did. Then why does it hurt so much?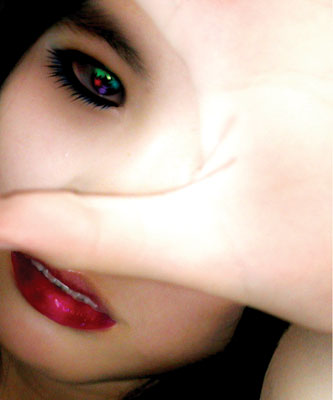 © Victoria W., Arcadia, CA