A Familiar Walk
June 24, 2010
Samantha won't look at me. I took her to lunch at her favorite restaurant on the boardwalk, the one where we had our first date, hoping to make peace with her, but her eyes always seemed preoccupied with the miniature salt and pepper shakers. I understand why she's mad at me, but I wish she would just talk to me. We've always been able to work things out in the past. I reach for her hand; she puts it in her pocket. We keep walking.
The sun hovers between the sea and the sky, seemingly unable to choose between the two. I can relate. The sky offers the sun safety and familiarity. He is comfortable in the sky because she is all he has ever known. But the sea offers something new and exciting. For now, he resists the temptation to explore her deepest valleys and light up her underwater reefs, but he will soon relinquish to her call. We all do sooner or later.
Hannah loved the ocean. Every morning of those long, forbidden weekends I spent with her, we would walk down the boardwalk, hand in hand, ready to conquer the world. She always seemed stronger than she actually was; she was good at hiding her weakness. I knew she was sick, but I couldn't believe it. I don't think she ever did, either.
As the sun relinquishes itself over to the sea, I reach for Sam's hand again. She puts it in her pocket and focuses on the man walking a few paces ahead of us, anything and anyone but me. She ignores like a champion. Just as I begin to give up, to stop trying to mend the cuts that mar our relationship, my gaze catches hers. She quickly looks away, but her deep, brown eyes glance back at me before she begins. "We need to talk," she says.
"Yes, we do."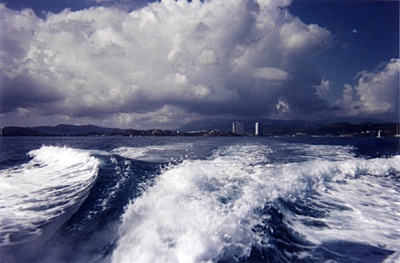 © Jenn T., Dover, NH