Reality Check.. You Pt1
July 1, 2010
As I drove into the parking lot the first day of senior year, I had a feeling things were different. But, more obviously, I was different. And I had to say, I like it. A lot.

As I pulled into a free space, I caught sight of you walking across the green. I swear, my heart stopped. You're just so perfect, and maybe, finally, I can be perfect too. Your kind of perfect. So perfect maybe you'd realise how perfect we were for each other.
I watched you walk across the rest of the grass, and when you were out of sight, I pulled out my mirror. I looked at the new me. Hopefully, this girl in the mirror would be up to your standards.

Instead of my usual array of braces and glasses, contacts and straight, pearly whites took their place. My hair was no longer flat and brown, but a deep, shiny red. You see, my mother gave me a makeover. I know, that's one thing you should never do, but I don't think my mom, the model, could stick having me as a dork. She made me work out. Get extensions. And wear makeup. And now it's like breathing to me. I don't know if I necessarily want it that way, but, its out of my hands now. I seem to be on autopilot a lot lately.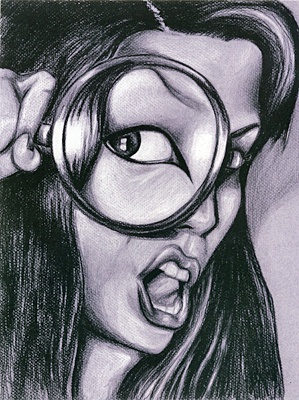 © Vivian V., Ozone Park, NY