If She Says 'I Do'
August 3, 2010
"The second I saw you, I despised you. You were beautiful, popular, and outgoing while I was a shy, pimple-faced nerd. You were the cheerleader-type, the girl next door, and I was the dork who got swirlies everyday before sixth period.

"It was during a writing assignment in the tenth grade that I really started to know you. It was a fake diary entry that we paired up on to grade each other's papers. My entry wasn't faked, and I had a feeling yours wasn't either. At that moment, we connected.

"Our first date was the drive-in movie theater. We saw a romance about a young couple and the boy had gone off to war and was killed. It made you cry, and on the way home, you sobbed all over my new sweater.

"We saw each other again a week later, same place, this time it was a horror movie. It was a slightly different scenario, because I was the one sobbing all over your new outfit." She laughed hysterically, even through her happy tears. Seeing her smile made him keep speaking.

"We had 'latte dates,' too almost twice a week for a few months, until summer break came along. Boy, those summer months were awful for me while you were in the Bahamas." She looked at him; the flicker in her eyes saying 'You remember that?' He nodded. He remembered everything about the summer before eleventh grade, the pain of looking at the phone while waiting for her to call, the warmth of reading her occasional letter to him, the joy of seeing her return home. He remembered getting contacts that summer to replace his thick-rimmed glasses, and cutting his hair a bit, as well as using a razor for the first time. She'd kissed his smooth neck for the first time.

"Eleventh grade was the year we fell hard for each other. We had our first kiss on your front porch one cool evening, and you were still wearing my leather jacket when you dashed inside. You still have it, I believe." Both smiled.

"We split for the summer of twelfth grade because your mom was angry that I kept you out so late. I went crazy without seeing you, and I even smoked a bit of pot because I was so upset. You just about killed me when you found out, and we took two more months off. We got back together eventually, and on the night of our graduation, we first 'did it.'" He made air quotes as if he was a teenager again.

"Now, we've completed college and I have a job as a medical assistant. My wife-to-be is a veterinarian." He snapped his fingers and from a long, winding stairwell came a little golden retriever. "Come here, Hazelnut." She gasped. Hazelnuts were her favorite food, and golden retrievers had been her favorite since she was a young girl. Attached to the dog's collar was a blue velvet box, and he pulled the box off of Hazelnut. He held it in his hand.

"I proposed to her in the park. I lead her up to the top of the tube slide and asked her to wait there for me to call her down. I ran down to the bottom, got on one knee, and called. She slid down to the bottom and met me there. She said 'yes' then, and now, I'm hoping she'll say 'I do.'" He opened the box and there was a gold band with little diamonds embedded.

"Zach Pattrons, do you accept this man to be your wife?"

"I do."

"Felicity Reagan, do you accept this man to be your husband?" There is a pause. She looks out at the audience, then back at the pastor.

"I do." And they kissed.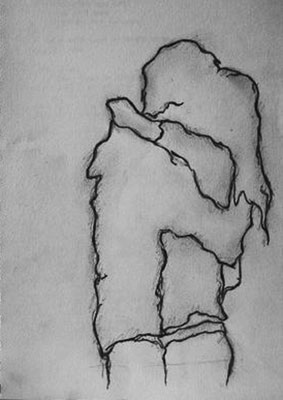 © Nicole B., Newcastle, WA