Enivitable (Chapt. 4 Part 1)
July 30, 2010
For the rest of the period I spent my time avoiding security guards and watching the clock. When it was ten minute to the end of school I went to my locker and took out a bag of clothes. After school that day I had an audition, and my mom was going to pick me up and take me straight from school. I wanted to look nice, so I packed a change of clothes. Closing the door to the handicapped stall in the bathroom, I pulled out my audition outfit. I spent hours working on it last night. It was cute, but conservative enough for me to look responsible. A indigo top purchased from a expensive store in the mall, a black skirt, and heels. I quickly pulled off my shorts and tank top, and put my new outfit on. I stepped out to look in the mirror. Hmm. I still looked like a teenage girl who had better things to do then audition for an acting company. I wiped the smeared eyeliner off my eyes, and reapplied it. I took my straightened hair out of its pony tail and let it flow down past my shoulders. I puffed my bangs up, and even dabbed on a little lipstick. Tugging my skirt down a little, I looked at the finished product. Perfect. A confident girl smiled back at me. I was about to leave and go wait for my mom, when I noticed something in the mirror. I was still wearing Dante's livestrong bracelet. I frowned and tugged it off.

The bell suddenly rang, and I stuffed the bracelet in my bag and exited the bathroom. Once in the now full hallways, I felt out of place and awkward in my fancy clothes. I was hurrying along, when I saw Kate and Rosa. They looked at me,and Rosa said,

"Savannah? Wow, you look amazing."

"Oh.. Thanks?" I replied nervously. "Uh, I gotta run, by see you guys at my house at 7, okay?"

"Sure!" They responded, and we hugged, and I continued down the hallway. I made it to my mom's car with out seeing anybody else that I knew. The audition went smoothly, and the director assured me that I would have a part. My mom and I grabbed some dinner, and then went back to the house. I was just trying to figure out what to wear when I heard the doorbell ring. My mom sent Kate and Rosa up to my room.

"Hey!" Kate exclaimed, and came over to sit on my bed.

"Hey, girls!" I replied, hugging both of them.

Rosa glanced at my audition outfit, and said "You're not wearing that to the game, are you?"

I laughed and shook my head. "Nah. I'm trying to figure out what to wear, though."

"Ooh! Can I pick out your outfit?" Rosa asked excitedly.

"Suuure." I said hesitantly. Rosa always dressed cute, but their whole group seemed to dress more …well, I guess trashy would be the word, then I usually did. The end product was me in my shortest shorts, a tight red v-neck shirt that my mom usually made me wear with a tank top under it, a push up bra, and Kate's black and white Nike high-top air forces. They were in the middle of styling my hair, when my parents yelled up to me.

"Savannah, we're going to go to the movies. Can you guys walk to the game?"

"Yeah, just leave. We'll be fine."

"Okay, sweetheart."

I was glad they left with out seeing me because, after Kate and Rosa were done with me I barely even recognized myself. On top of the outfit they had clipped my bangs pack in a pouf, ratted the sides so I would have tons of volume, and given me thick black eyeliner. The three of us stood and looked in the mirror. I looked just like one of them.

"You look so hot, Savannah! You should dress like this every day!"

I turned and examined myself from every angle. Hm. I did look hot….. but did I wanna be hot like this? Usually my style was more modest than this. Last year I had won "Most Classy" at my middle school, and this outfit was definitely about as far away from classy as I could get - without getting arrested for indecent exposure.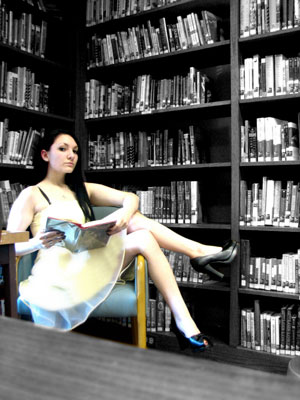 © Jessica F., Bradford, MA