Recontrer(6)
August 16, 2010
My heart just melts down, I bend down to be her height and I'm caring and soft again, as I say, "Oh honey, how are you?"

Her eyes are big and innocent, as she looks at me, and her face fills with confusion as she asks me, "Good. But Aunt Lett, what are you doing here?"

And I look up into Vlad's face and I see his is clouded over with confusion also, like he just realized that. He says, "Yeah, you know this school is for vampires, not humans."

I get up and my voice becomes hard again, but way softer from when I slapped him. Oh yeah. I slapped him. Yeah, not such a smart thing to do to a full vampire. But I forget that and I ask, "Who ever said I'm human?"

Both Vlad's and Toby's faces fills with horror, and I guess kind of anger that I'm not a human anymore. I'm surprised that they're filled with that much emotion. Vlad is astonished as he says, "NO! You turned into one?!Who bit you?"Then he's furious, like he's trying to defend me. He says, "I'm going to kill them!"

I find it amusing, so I chuckle and I say, "Actually, Kim did."

His anger slips away into confusion as he says, "What? When? How?"

And I laugh, I have to, it is just so funny seeing his face completely go from angry to confused after one thing I say. I realize that maybe, just maybe, he does still love me.

As I'm laughing, my laugh echoes around the silent auditorium. I quiet down and realize we've actually been talking for a long time now, and everyone is staring at us. So I say, "Why don't I tell you that later. I'm wondering what you're doing here at all."

It seems like he realized what I did too, and he has to remember what he was doing here at all. He looks dazed as he says, "Oh yeah, I have to enroll Toby to go here, but I think I might enroll myself as well."And his grin just melts my heart, and I know I still love him.

I smile back and say, "Alright but you might want to hurry, and the principal has been standing there waiting for you for quite some time."

We both look up to the stage and the principal is staring right at us, waiting for Vlad to go up there. Her foot is tapping up and down, and her arms are crossed on her chest, with a stern look at us. She looks almost disapproving and I wonder why, and we both look at each other confused. Then at the same time, we simultaneously are reminded of our kiss and we both blush, looking away.

He meets my eyes again, and grudgingly he says, "Oh, yeah, I gotta go up there I guess." He glances back up to Ms. Bitterman. But eagerness fills his voice and his eyes look at my face again, as he asks, "Talk to you later?"

I smile and tell him my homeroom to come to later so we can talk. And maybe more. I mentally slap myself. God, Scarlet, you just saw him after 3 years, and you're already thinking of that? Shame on you! I look up at him, and he smiles. God, can he read minds? Think Scarlet, can he? I don't remember! That would be really awkward. I start having a mental panic attack, but on the outside, I look fine. Wait, no he can't, remember? Good. I'm flooded with relief as I remember he couldn't.

Thankfully, nobody could tell something's up. He smiles at me again, and he kisses me on the cheek saying, "Okay, bye. See you later."

Me, lost in thought, could only manage to say, "Yeah, bye."

Vlad jogs up the aisle to the principal, at first looking down at his feet. Then he looks up to the principal. At first, he looks guilty for taking so long, but he glances back at me and gives me a jaunty wave. I laugh and I can see pure happiness on his face as he breaks out into a wide smile.

I break out in a broad grin, and then Alexa tugs my sleeve, and I look down at her. At that same instant, I realize that all of the girls have been looking on enviously, watching the entire scene. The guys, well, some look happy that he is taken (so they don't have to worry about their girls.) And others look on at him in, I guess, acceptance (now that he's proven that he won't steal their girlfriends.) As I sit down, my lips feel tingly. I touch them and they're swollen from our kiss.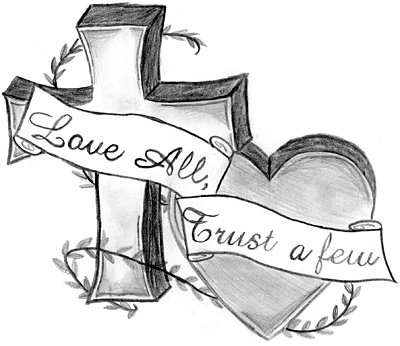 © Gina W., Glen Gardner, NJ