Recontrer(7)
August 16, 2010
Later, it turns out we have the same exact schedule, like homeroom and everything. Which I think Vlad must have meddled with the principal's mind a little, I mean, how else would he have gotten into my Calculus class? But I'm happy, because that gives us enough time to catch up and talk.

So we're in homeroom, and he's sitting in the desk next to me. He moves to the desk in front of me and straddles the seat, crossing his arms across the back rest and his hands rest on my books. He looks at me and asks, "So, what questions did you have?"

I'm confused at first, I don't remember what questions he's talking about, then I realize and I go, "Oh yeah, now it's only one. Why doesn't anyone call you Vlad anymore?" I thought it was a harmless question. Man, was I wrong, his face fills with pain, and it becomes closed and hard and he looks away. His pupils constrict with hurt and pain.

He says, in a voice filled to the brim with hurt, "You were always the one to call me Vlad, and once I couldn't see you anymore, every time someone called me Vlad, I was reminded of you. As to not be reminded of you, I told everybody not to call me Vlad. Now its Vladimir, I guess."

I'm shocked, and a little touched, that he cared about me that much. That he completely changed his name for me. And I immediately feel guilty. I say, "Oh wow, Vlad. I mean Vladimir."

But he grins up at me, and says, "No, I finally have you, so you can call me Vlad all you like."And his eyes are light and amusing like before.

I smile, God it is so addictive to smile around him, and I tease him saying, "Oh really? Do you still have those abs that you made that whole song about?"

He gives me a wicked grin and gives me a look that makes me want to grab him by his shirt, hold him close and kiss the s**t out of him. He says, "Yeah, they're even better now. You want to see?" And he starts to lift up his shirt.

My smile fades away quickly, and then my face gets all quiet and hurt. He sees my face, and frowns, abandoning the humor in his face. He says, "But wait, you look sad."

Damn, he did notice. I thought it just slipped him, so I sigh and look away, saying, "Yeah, after you never talked to me again, even the simplest thing would make me so sad. But they were all things that we had inside joke about, like drool buckets, abs, and Andy Six. I swore I would never listen to Andy Six, or look at any abs, because they reminded me of you, and it hurt too much to be reminded."

His face goes all soft and caring, and his eyes fill with caring, and love, all for me. He puts his hand under my chin, lifting up my face to look at him. He says softly, "Hey, there's no need to be sad. We have each other now, and we can have even more fun then we had last time, all those years ago." He gazes deep into my eyes, and I can feel a smile growing back on my face and it seems like there's no one else on the Earth, just me and him gazing deep into each others eyes.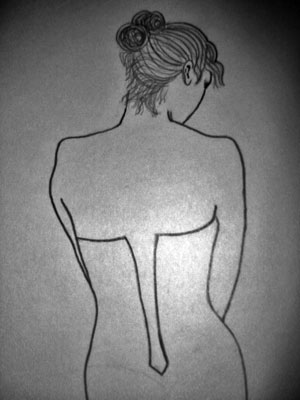 © Jennifer B., Larchmont, NY